We were able to see plenty of wildlife while in Canada. Deer, elk, bear, big horn sheep & mountain goat. I think that's more then we ever saw when we visited Yellowstone quite a few years ago.
In the top right picture, the one big horn sheeps' head is cocked to the side because one horn has been broken off.  He could not hold his head straight and walk, it always leaned to the side.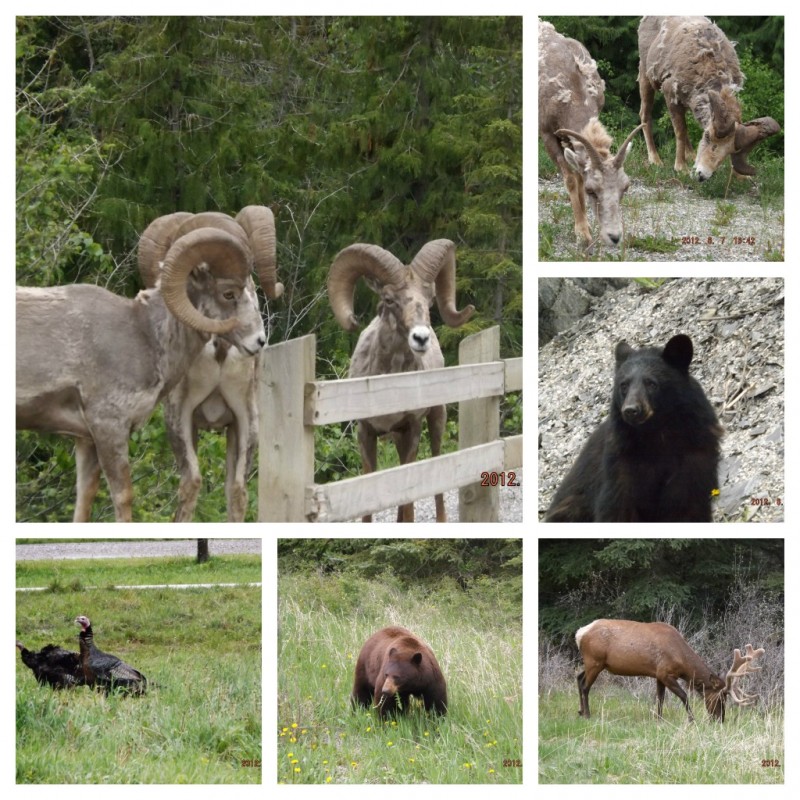 The bears were loving the dandelions that grew by the side of the road (all those yellow flowers are dandelions).  We are thinking that the brown bear we saw was a grizzly.  It's strange that you think you could identify something so simple as that, but when faced with it out in the wild, you start to doubt yourself.  We saw the slight hump in its back, which is indicative of a grizzly, but we weren't sure if its ears were small enough. Grizzlies' ears are smaller than other bears.
Every mountain had snow, either from glaciers or snow that had not yet melted. The photo on the top right shows downed trees. This is from an avalanche – whether planned or not, I do not know. They do have to set off avalanches in areas that they think will pose a danger to people, so this might be one of them.  Regardless, there are signs of avalanches everywhere and they're not always next to the road.  We were told that people die every year from avalanches and a lot of times, it's snowmobilers that start them.  While we were there, they closed a road the day after we went through, due to a mud slide.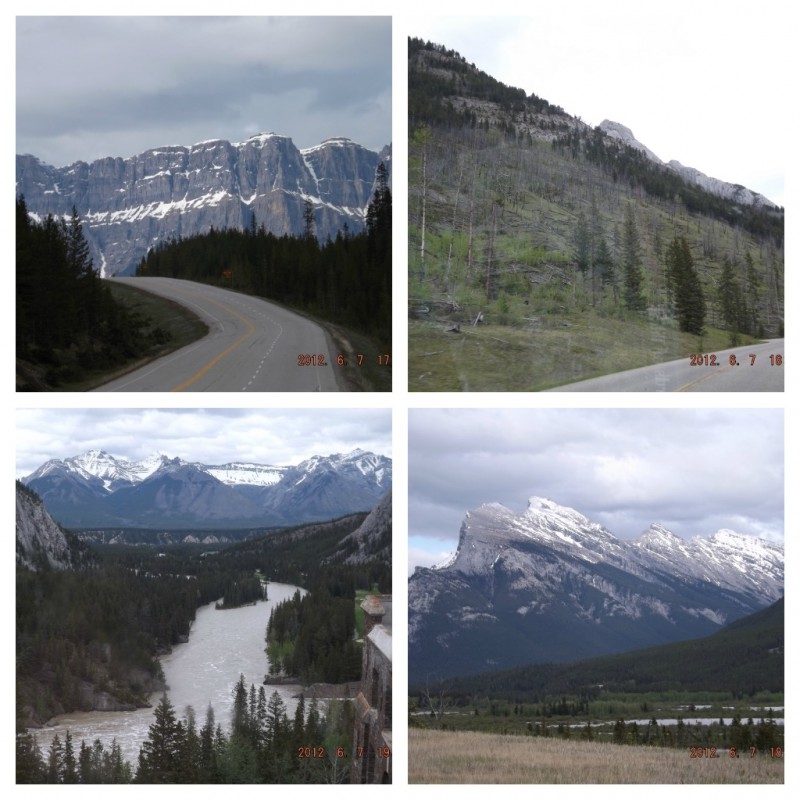 I love, love rugged mountains. That's one reason why Arizona is so dear to my heart.
Banff Springs Hotel was also another stop Russell & I made on our honeymoon 23 years ago. The same company owns Chateau Lake Louise & the Empress on Vancouver Island. Each hotel has their own theme.  The Banff Springs hotel's theme is the medieval/castle look.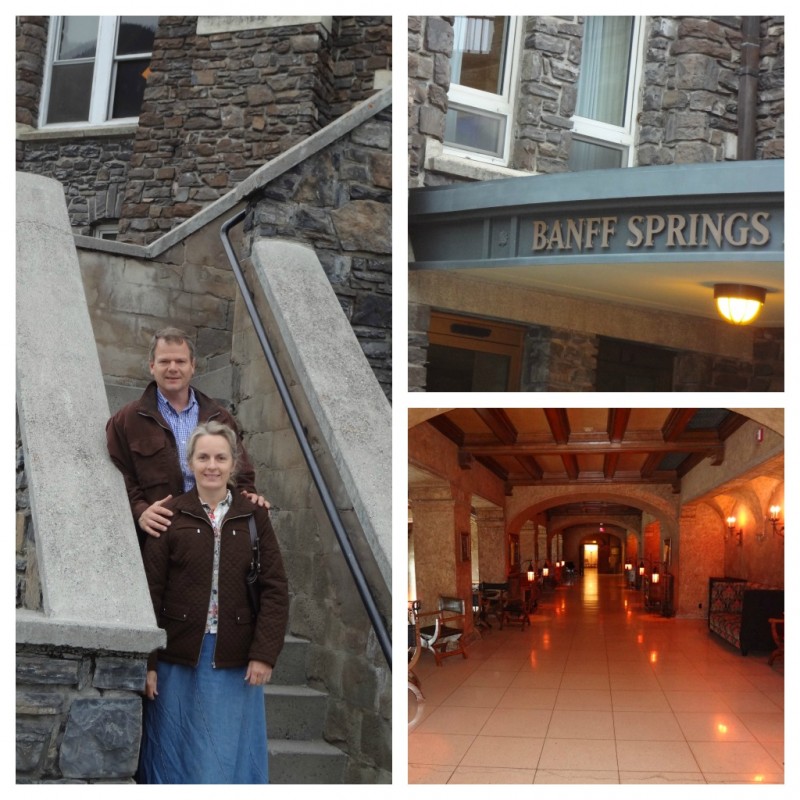 The hotel is surrounded by rugged mountains.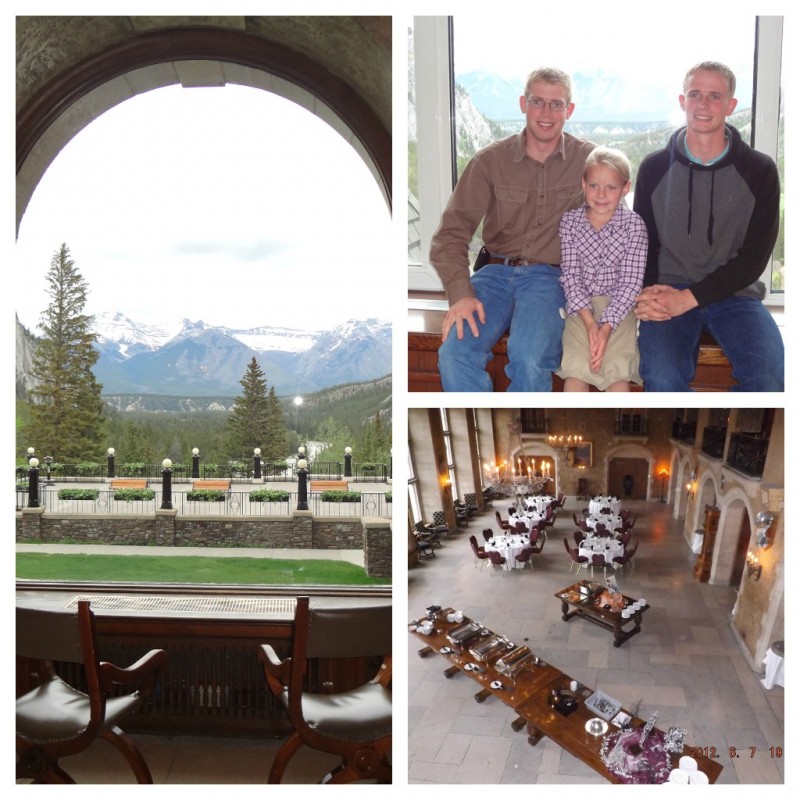 After a short visit, we headed for Calgary where Seth was to catch a plane to Manitoba.  But first we stopped and had lunch with a family friend.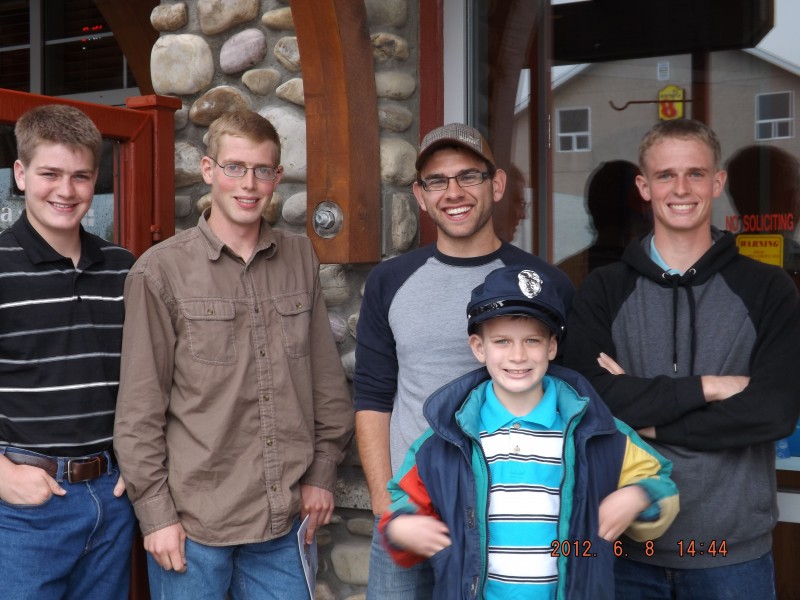 Then we stopped to see Russell's mom's brother and sister. That was very enjoyable. Uncle Jerry is 93 years old. Witty and sharp as a tack!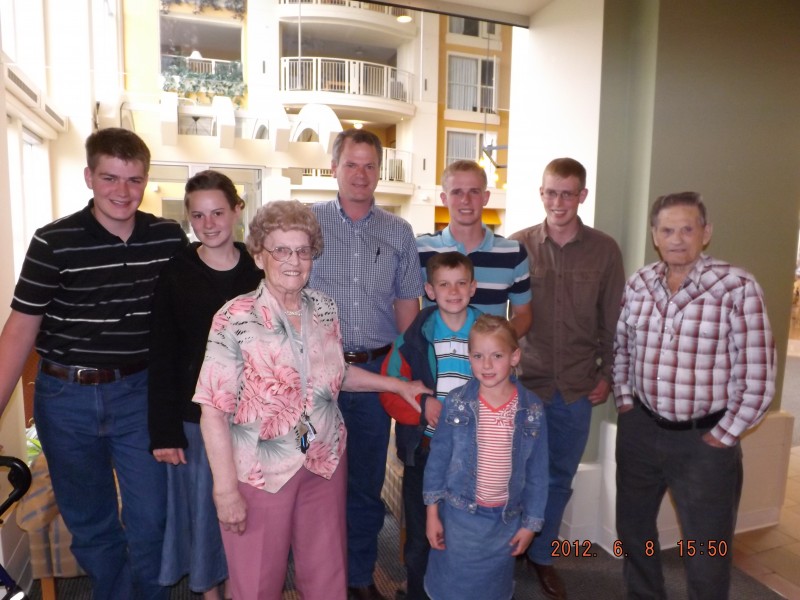 We said our goodbyes (yet again!) to Seth as he boarded a plane for Manitoba, where he is working for a month-and-a-half minnowing, drove all night and arrived home 24 hours later.  We made amazing time.
Then the unpacking began…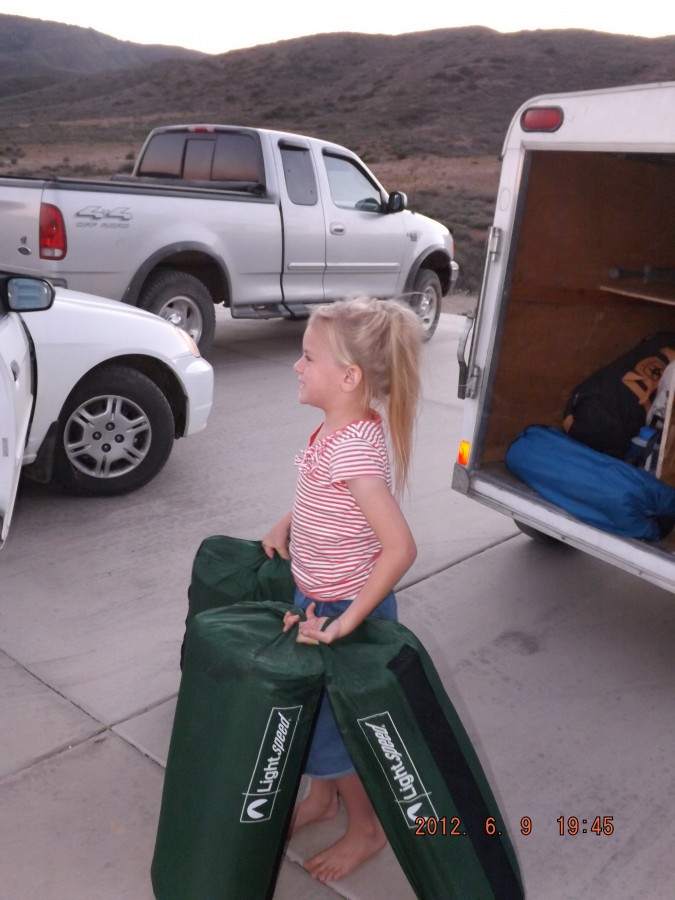 The other posts about our trip from California to Calgary are:
A Bad Beginning to Our Family Trip 
We Visited the State Whose Motto is "She Flies with Her Own Wings"?  What's Its Name?
The Coastal Town of Newport, Oregon
Ni Hao and How We Were Treated by Our Chinese Hosts
Johnston Canyon Falls, Banff National Park
A Wildnerness Retreat When Living in Canada Isn't Wildnerness Enough
Filed under: Family Life Updates • Trips
Like this post? Subscribe to my RSS feed and get loads more!