Wouldn't it be a dream if your kids woke up each morning and ran to look at their chore chart to see what they were to do around the house? Well I have recently made chore boards for my kids that pretty much is working that way. I cannot believe how successful this has been with my 9-year-old son and 6-year-old daughter.
Let me tell you about it.
Do you remember when Choreganizers came out several years ago?
It was basically a visual way for your children to do their chores.  Each child has a chart with 5 pockets and you put a chore card (a stack of chore cards come with Choreganizer) that has a picture in each slot. As the child did the chore, they then removed it from its slot and put it into a pocket at the bottom of the chart. You then paid your child a Dad dollar or Mom Dollar for every job they did. Once a week, you would then open the Chore Store and offer a variety of items that they could "buy".  It could be time-related things, like play a game with mom & dad, go to the zoo, etc. or it could be actual items that you have purchased and placed in your "store" - it was all up to you what you wanted to offer at the store.
I used it when Seth and Zachary was small and of course they really liked it, and lately Justus and Audrey have been after me to do it with them.  There were a few things that I wanted to change.  I wanted more than 5 chores, for starters. Secondly, I wanted to individualize the chores that we need done for our house and thirdly, I wanted it to be more attractive than the charts the Choreganizer has with it.
So I started searching the web for some ideas and found these…  The one on the left is sold on Etsy by More Than a Memory AK and you can find a DIY tutorial to the one on the right at Today's Fabulous Finds.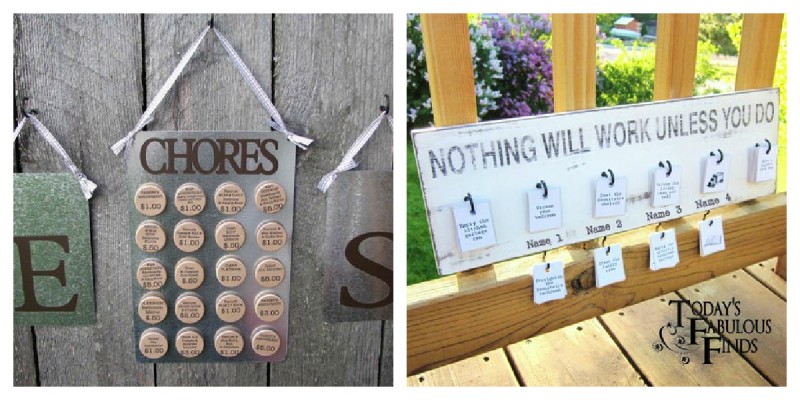 So, I got to thinking how I could individualize mine and here is what I came up with.
Justus's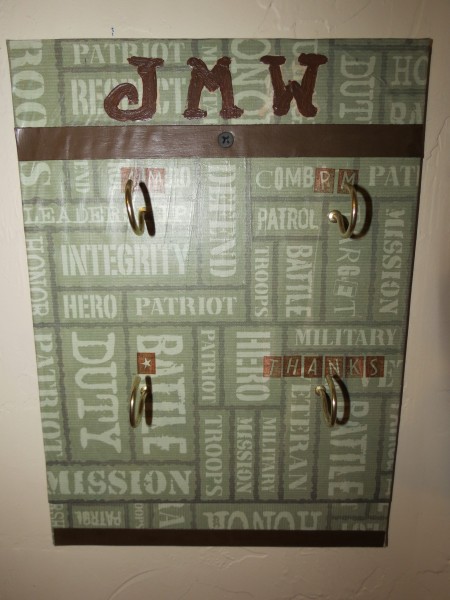 Audrey's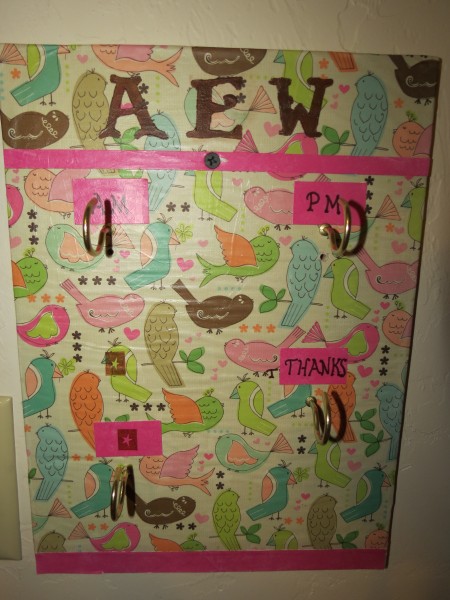 Here's how our chore system works. There is an AM hook and a PM hook.  If there are chores that need to be done in the morning, they are placed on the AM hook. My kids have to have their morning jobs done by 10:30.  PM jobs can be done anytime after that.  As they complete their chores, they remove it from the hook and place it on the hook where the star is.  Each morning I come tally up the chores that were completed and hang Family Money where it says "THANKS".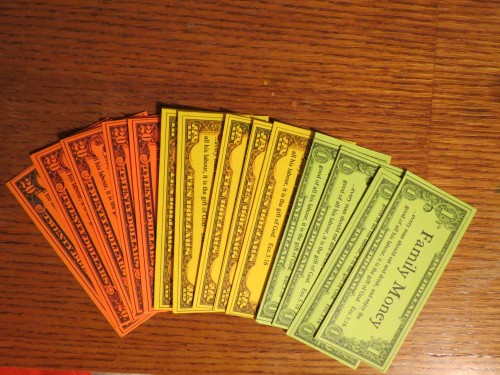 The stack on the left shows all the jobs I can pick from; the picture on the right gives you an idea of what they look like.  The ones on top are some I made after I had already printed up the others.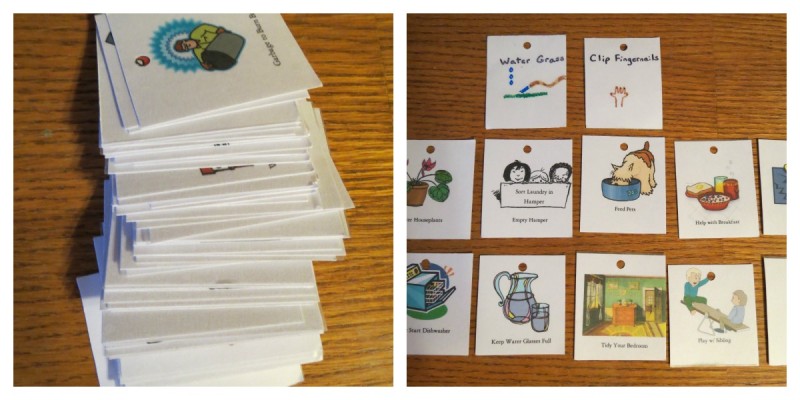 Every 2 weeks, we open up the "store" so that they can shop around. So far I haven't purchased anything for the store except a couple of packs of gum. I knew the kids were trying to make money to take to the youth camp in Ohio, so I paid them cash for each chore completed. Originally each chore was going to be worth $.25 but that was adding up quick. Thankfully, Justus suggested I lower the price and we settled on $.10 each.  They are happy as can be about this, as was I!
There's not too much to it, but I'll share in a later post how I actually made everything.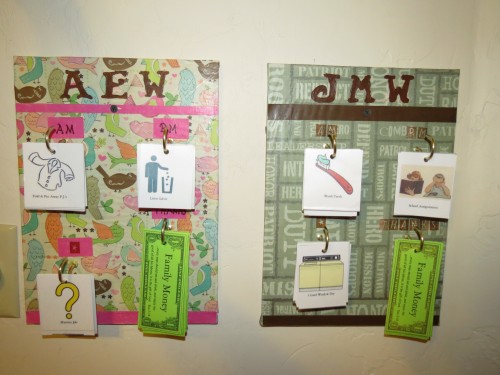 Filed under: Child Training
Like this post? Subscribe to my RSS feed and get loads more!