Five years ago, my oldest son graduated from our homeschool high school. I rode him heavy about furthering his education since he was such a perfect student (so studious!).  He could have been a poster child for any school.  They would have been proud to call him their own.
High school was over and now the next step was to go to college. Russell wasn't big on college.  He didn't like the college scene idea, among other things.   I talked to Seth a bit I talked to him till I was blue in the face to get him to head for college, to become an engineer since math seemed to be his passion.  He didn't really want to go but he went anyways, taking College Chemistry and English. He took a CLEP test for American History and passed that, too.
But he wasn't happy.
He didn't think he wanted to become an engineer and sit at a desk all day long.  He wanted to work in the outdoors.  He didn't want to get a degree, spending thousands of dollars, only to find out that he really didn't want the job anyways.
So guess what?
I had to learn to keep my opinions to myself and to trust that God could and would lead my son. That maybe, just maybe there were other options than just this one.  I had to learn that it's not all about mom and dad, but kids have thoughts, too.  I had to learn to let go and let him make some of his own decisions.  I had to learn to trust that the Lord would lead Seth just as He promised in His Word to do.
The steps of a good man are ordered by the LORD… Psalms 37:23
I am a big advocate of entrepreneurship. My father was an entrepreneur for most of his life and I guess it's rubbed off. I love, love home businesses and I read a lot of articles on the subject. It's just something in my blood.
Russell was also raised with that mentality. He's been self-employed almost all his working years.  That's another reason why he hasn't promoted college to our children.
So for the last 5 years Seth has been a migrant worker :), working in Ohio in the metal roofing business, working in Canada in construction, minnowing, and commercial ice fishing, and working for us in our home business Sunny Day Books.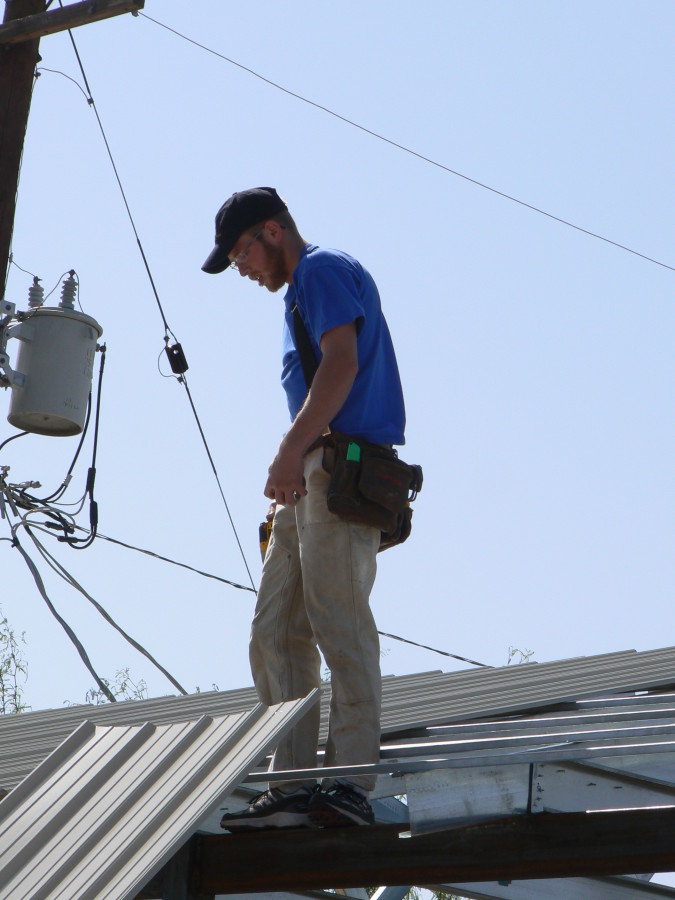 He's been able to experience a wide variety of jobs, seeing what he enjoys or doesn't.
Since we also have rental properties, our kids have been able to see how they work and what kinds of jobs its entails- like collecting rent, repairs, advertising and selecting tenants, etc.  We love the business and the boys have seen that it works well for us, so they all want to eventually have their own.
Now Seth will be the first one.
He has taken his first step towards his goal of having rental properties.
He purchased his first mobile home at an auction for $600 and then paid an additional $350 for back taxes still owing.
Pretty good deal, I think.
He's been faithfully saving up his money for this, so everything will be free and clear. No mortgage payments or loans.  Isn't that awesome?
His new project – a 1979 14×65 trailer. 🙂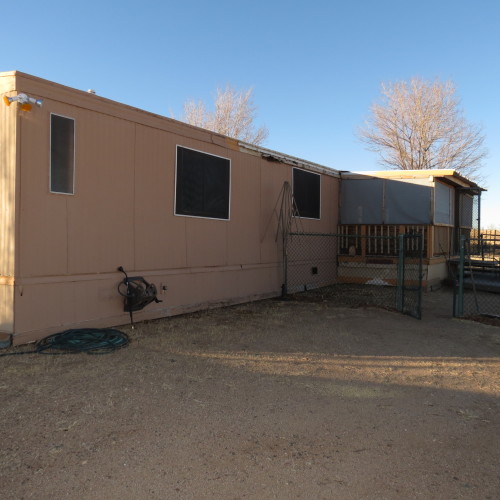 The kitchen was in pretty good condition, the appliances were new & the bottom cabinets had been replaced with something sturdier than the normal stock cabinetry that comes with mobiles.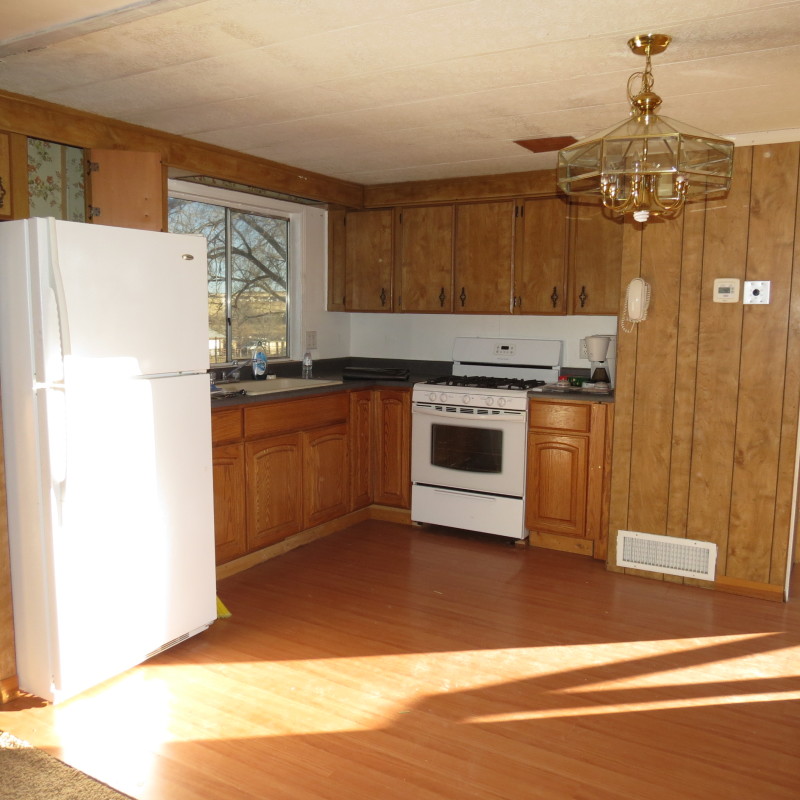 View into the living room. There had been a commercial air conditioning pack on the roof – therefore the roof patch. This will have to be fixed.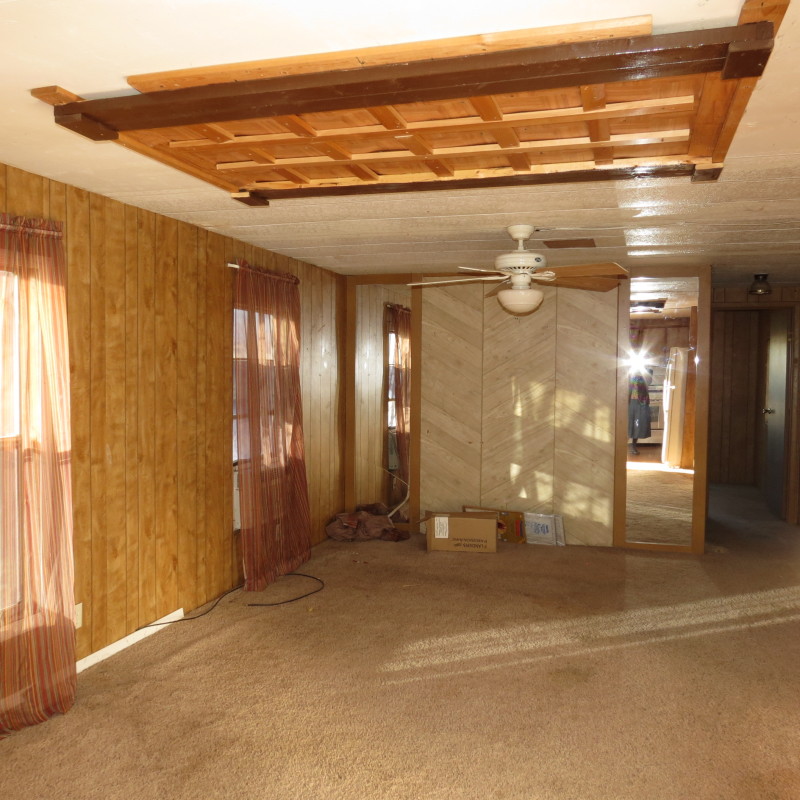 Bedroom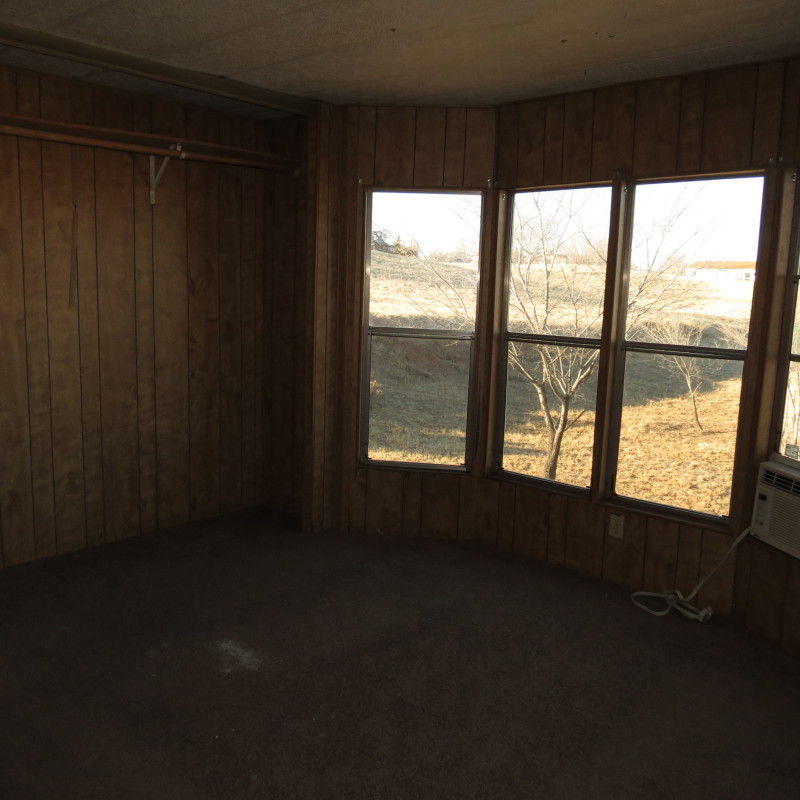 Bathroom that needs some new paint.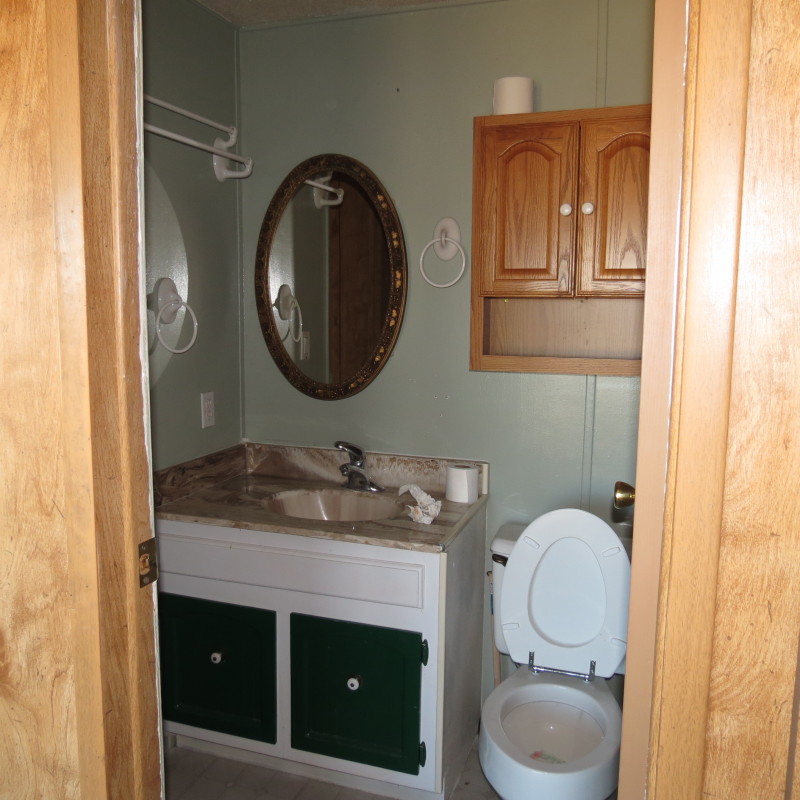 This goes to show you that not all paint choices are good. Or carpet choices, for that matter. Through the doorway was another bathroom at one time but all the fixtures were removed to make an office(?).  Seth will be changing it back to a bathroom.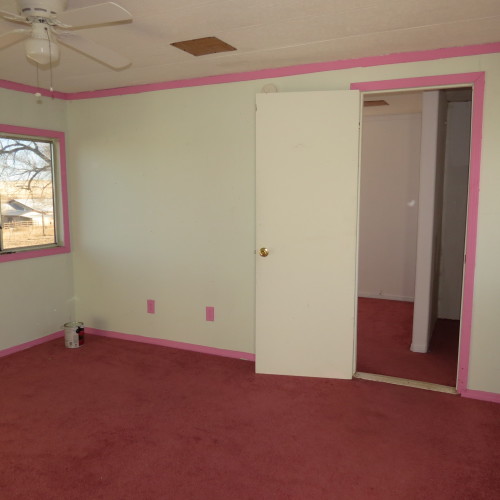 Seth has purchased the property.  Now he's in the process of drawing plot plans and digging perc holes.  Coming up will be a septic system and then moving the home onto the lot.
Then comes:
setting up the foundation
putting in the utilities (water, electric, gas)
underskirting
replacing the bathroom that was removed
fixing the ceiling where the a/c was
installing new carpet
and many other little things here and there
In about 2 months he'll have his first little money maker ready to go.
I'm really excited for him and I have to admit, as a mother, I'm pretty happy to see that he'll have made a step towards something long-term for his future.
And it's pretty nice that it's right here locally.  He's been traveling so much I was getting worried that Canada might end up with another resident.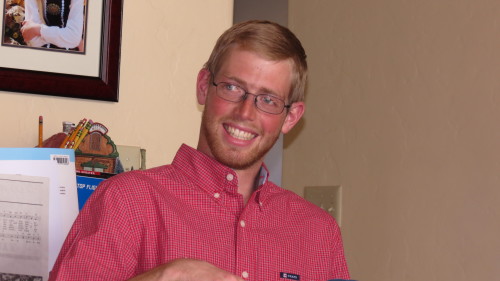 Filed under: Family Life Updates • Home Business
Like this post? Subscribe to my RSS feed and get loads more!