That title was a good attention grabber wasn't it?
It's true.
I hardly believe it myself.
I keep thinking it will wear off.
Do you think it's possible that it may not?  I don't know but…
until then, I'm thrilllllled.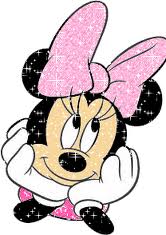 The first thing Justus and Audrey do in the morning is check out their chore boards.
There are some days that they're more eager than other – I cannot tell a lie.
But overall I have kids who are eager to do their chores.
Even on Saturdays!  They ask me to give them jobs on Saturday's, too.
Today I'm finally going to share with you how you can make your very own. It's not rocket science which is exactly the kind of projects I like because I don't do complicated craft projects very well.

Picture 1 – Supplies

scrapbook paper

thin board cut to desired size

cup hooks

Mod Podge

Picture 2 – Cutting Paper

Cut scrapbook paper (I used a paper-cutter) to fit chore board.

Picture 3 – Wrap Sides

Be sure that you leave enough paper to wrap the sides. In my case I also had to cut a 2nd strip of paper for the lower half of my board since the paper wasn't long enough to cover the chore board. Once you Mod Podge it, you can't see that it was even added.

Picture 4 – Mod Podge

"Paint" Mod Podge onto the board and then lay your scrapbook paper on and smooth from center out to try to eliminate wrinkles. When glued down, "paint" Mod Podge over the top of the paper which will protect it from tearing.

II added a contrasting strip of cardstock paper and Mod Podged it to the top and bottom of the board. I used stamps for their initials at the top. On Justus' chore board I stamped AM, PM, THANKS and a star but on Audrey's I cut out pink cardstock and wrote on them because I thought it would help it to stand out more than Justus'. Now I wish I would have just stamped hers, too.
Close-up
To place the cup hooks in, we had to drill a small hole to help get the hooks to go in easier.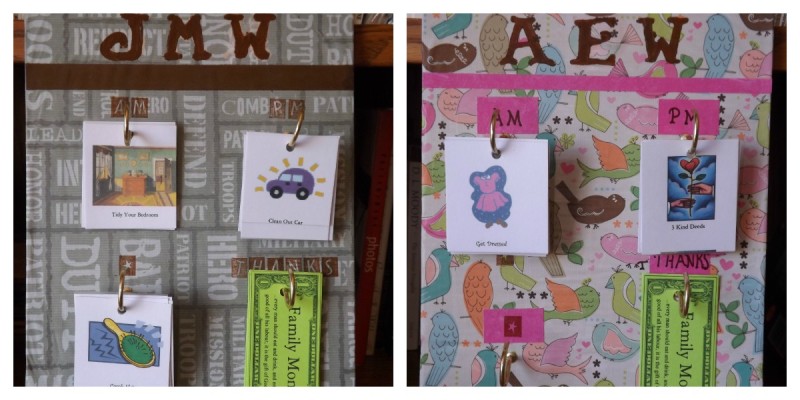 I used a program called Printmaster to make the money. Different colors for different denominations.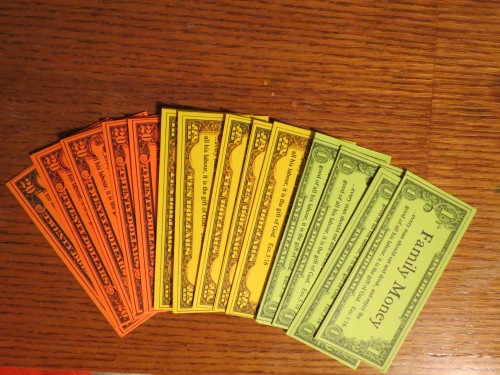 Close-up of the $20 Family Money bill.
Chore cards made on Printmaster, cut out and laminated by using clear Contact paper.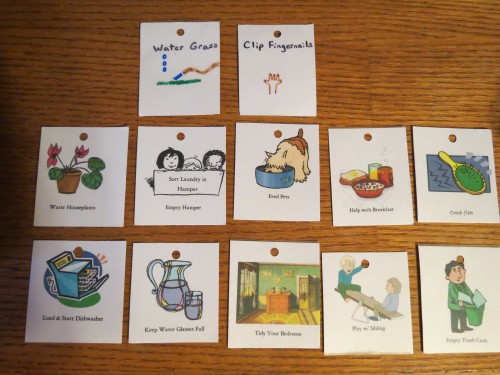 I notice that my photography skills are a bit lacking.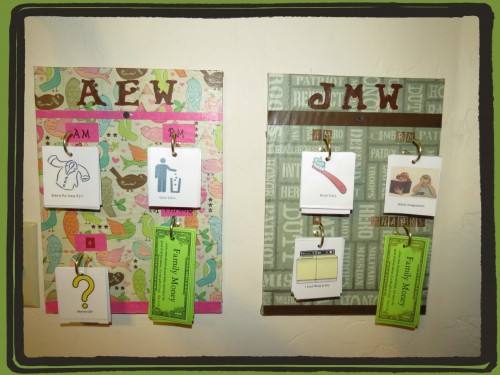 Something to consider… While I'm having great success at the kids doing their chores in the morning, the pm jobs are a little different. I do have to remind them. I usually tell them about 1:00 and they have until 6:00 (supper time) to complete them. A lot of times they get distracted and need to be reminded again. I do try to keep the jobs very light  in the PM so that they don't get "weary in well-doing."
You can read about how we're using these chore boards here.
Filed under: Child Training
Like this post? Subscribe to my RSS feed and get loads more!