I'm delighted to be able to give you an update on Serenity. Friday night she left for India and after 30 hours of travel time, she arrived in Hyderabad. You can read about her journey here.
After her arrival in India she spent a few days in Hyderabad where she went to a Exhibition. The Exhibition is put on annually and is located on a large parcel of land with hundreds of individual stalls.

And it looks like she got herself another ice cream!
The young lady she is standing with is her host's daughter.

Chinese food in Hyderabad.

Here's a short video of the congested, busy traffic.
After being in Hyderabad for a few days, Serenity and most all of those in the above Chinese dinner picture left for the villages.
Coffee on the way to the village.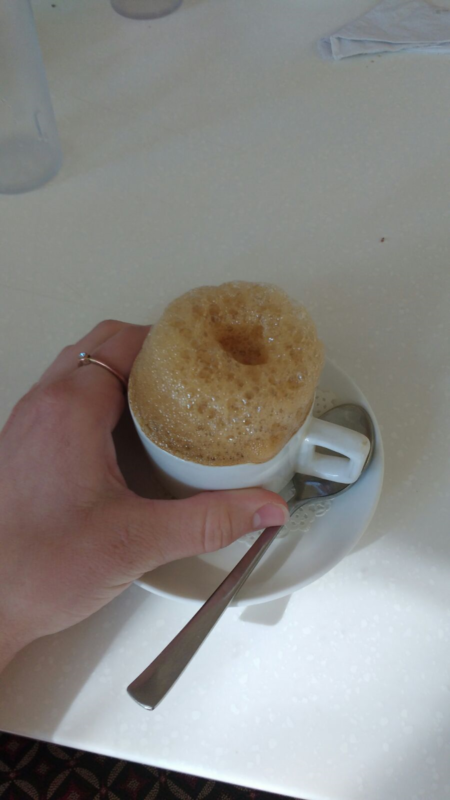 Serenity tells me that the village life is quite different than being in the city. In the country they get up at about 4 in the morning and work in the fields all day. When she was in the city they slept till later, and then there is the afternoon nap from 3-5 or even 6, with supper being served at 10:30p.m. After supper, it's bed time. That would be a different schedule from here in the States!
She had a wonderful time in the village.
There were monkeys running around.

East Indians sit on the floor when eating. They also don't use utensils.
The first few times she ate at a table with a fork, along with our American friends but she really wanted to join the locals. Finally one of the girls grabbed her by the hand and took her to join them.
(blurry picture but I love it none-the-less)

They love that she eats with them. The food is not too spicy for her and they are thrilled with that too. And they taught her how to eat with her hands. (Should I be concerned? haha)
The sari has 7 yards of fabric!

They asked her if she would like to serve one night and she happily did so. I only have this small photo. When I am sent a regular sized one, I'll switch it out.

Serenity said they are all so willing to serve, even the young men. Their culture is one of humility.

They were very enthralled with American money.

Serenity showed them our family's picture and they looked and looked at it, passing it around to each other for a long time.

She took gifts along and the women loved the suckers she brought… even down to the grandma. 🙂

They call this a 3-wheeler. It's used for both private and public transport and can be found everywhere.

Church
No shoes are worn in the church and they all sit on carpet or rugs.

For their accommodations, they slept in the church, sleeping under mosquito nets.


There is a Neem tree that is used for brushing teeth. Gevan (not sure of spelling), their driver, shows Serenity how to use it. Their language is Telugu in the villages.
And one last picture of Serenity in the village, along with our American friend.
"You have to come back. You have to come back," the villagers told her.  Serenity was quite sad to leave and agrees that she needs to go back.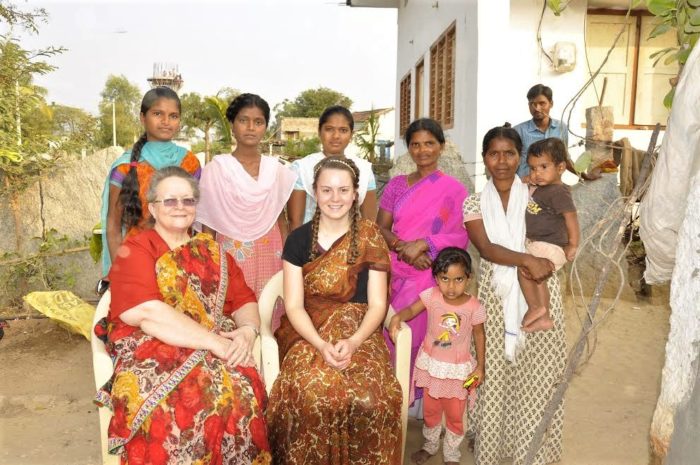 She still has a week-and-a-half before she comes back to the States but she wants to stay longer!

What country have you visited that has been the most unique experience for you?
I know a little more about the Eastern toilet now. It's a hole in the ground but they don't have toilet paper. Instead they use a bucket and scoop and just splash themselves with water. (that's where baby wipes come in handy!)
They don't shake hands with their left hand because it's considered unclean. Before cooking, they will splash water on their hands but they don't use soap .
Sorry if that is too much information, but I find it all fascinating. Maybe you are like me and find everything interesting too. 🙂
Filed under: Trips
Like this post? Subscribe to my RSS feed and get loads more!