Well this new year started off with a bang and I'm needing a breather already! Unfortunately, I've been down the last few days with a fever/cold. It was a powerful bug going around but I guess I need to focus on building up my immune system because not everyone caught it.
Lots of fun times were shared with this lovely group of young people this last week and we enjoyed hosting them.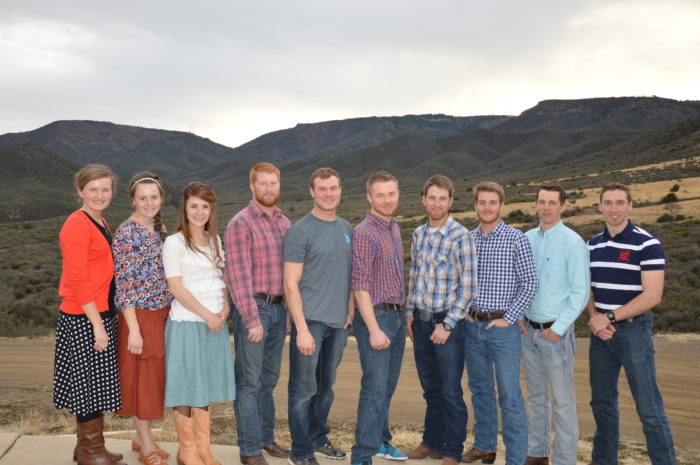 So I wanted to tell you all about the Bruschetta Bar that we put together for our Christmas Eve meal. It was a lot of fun to do and I think a lot of the impressiveness of the meal was due to how it was set up – entirely due to my sister. She's pretty amazing that way. I showed her some pictures on Pinterest that I liked and mentioned that we had some scrap wood I was thinking of using and in just a short while she had the whole table arranged.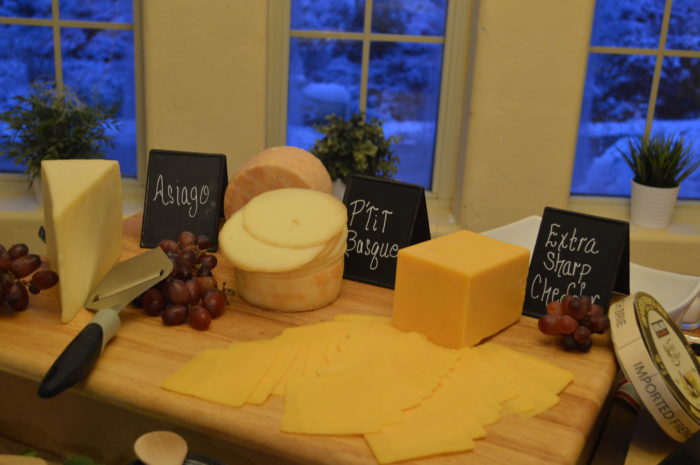 To host your own Bruschetta Bar party here are some of the items you may want to purchase.
Baguette Loaves
Roasted Red Peppers
Cherry Tomatoes
Artichoke Hearts
Charred Corn (Trader Joe's freezer section)
Spinach
Caramelized Onions
Sauteed Mushrooms
Jalapeno Stuffed Green Olives
Arugula
Eggplant Garlic Spread w/ Sweet Red Peppers (Trader Joe's)
Olive Tapenade Spread (Trader Joe's)
Pesto Sauce
Marinara Sauce
Red Grapes
Salami
Smoked BBQ Shredded Meat (meat I had in the freezer from my daughter's graduation)
Variety of cheeses – we used Brie, Extra Sharp Cheddar, P'tit Basque, Asiago, Jalepeno Cheddar (I think it was a cheddar), goat cheese with cranberries, Paradiso (Italian Style)
Chicken Wings (I purchased these in case there were some heartier eaters that wanted more meat.)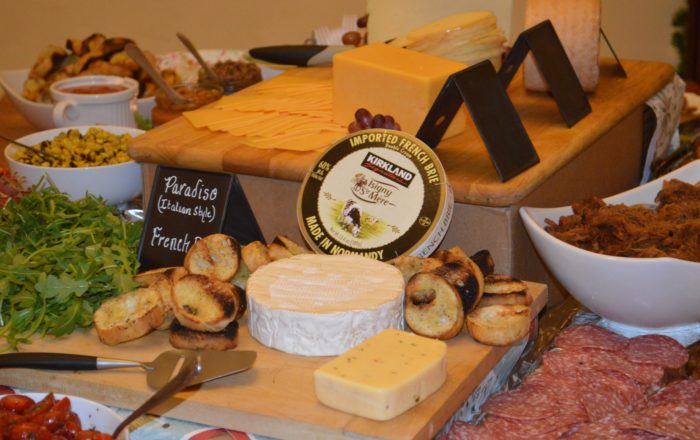 You certainly do not need to purchase everything that I did. I had no idea how much we would use since our family tends to eat quite a bit and there were 34 of us. With all the variety I had, it was almost too difficult to choose what combinations to put together. So whether you choose to have as much variety as I did or less, it all works.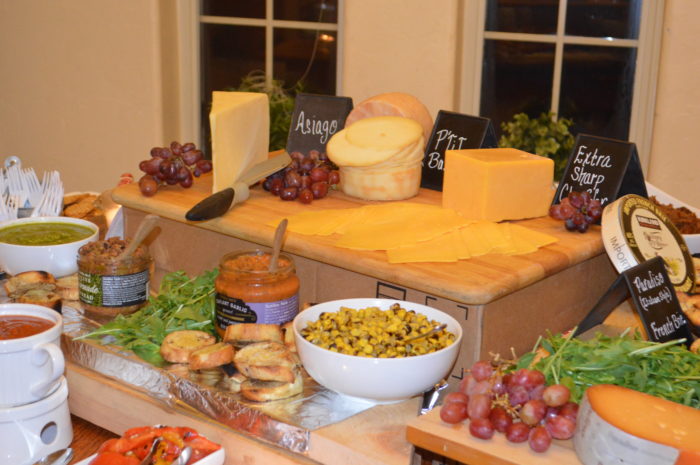 To prepare your baguettes slices for the bar, brush olive oil on each slice and then grill for just a few minutes or until you have some black marks. While it's grilling, sprinkle granulated garlic on each slice.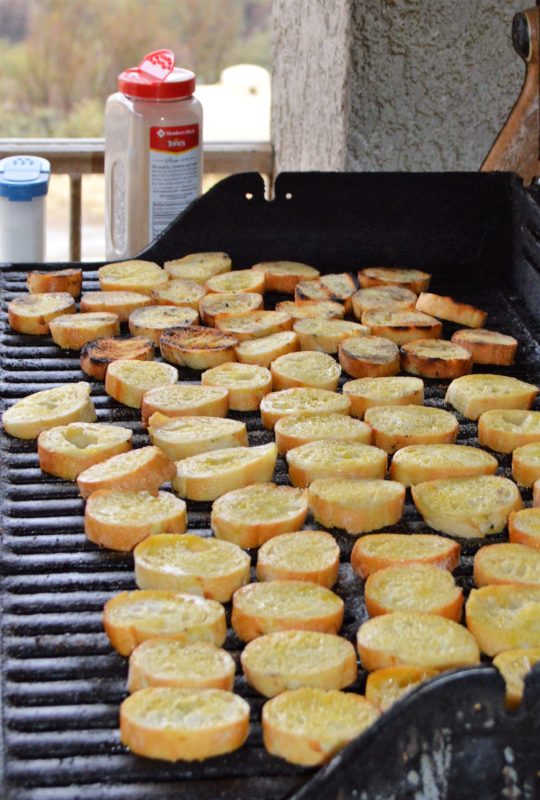 I found some really tasty recipes on Olivia's Cuisine for our Bruschetta Bar.
Classic Tomato and Basil Spread
2 pints red grape tomatoes, halved lengthwise
4 cloves of garlic, finely minced
4 tablespoons extra virgin olive oil
16 fresh basil leaves, plus more as needed, chiffonade
Salt and freshly ground pepper to taste
Combine tomatoes, garlic, basil and olive oil in a large bowl. Season with salt and pepper and toss to combine. Cover and refrigerate until ready to serve.
White Bean Spread
2 cans (15oz) cannelloni beans
1 large tomato, diced
Juice one lemon
2 cloves garlic, finely minced
Salt and freshly ground pepper to taste
Olive oil to taste
Chopped parsley to taste
Combine all the ingredients in a large bowl. Season with salt and pepper and drizzle with olive oil.
Refrigerate until needed. Drizzle with more olive oil when ready to serve.
It's a Do-Ahead Kind of Meal
Everything can be done ahead which is a big plus when you're putting on a party. The only thing you wouldn't want to do too far in advance is the grilling of the baguette slices since they can get dried out and too hard.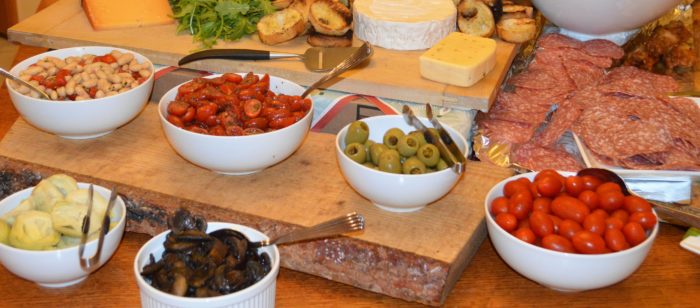 The magic of candles… they always add so much.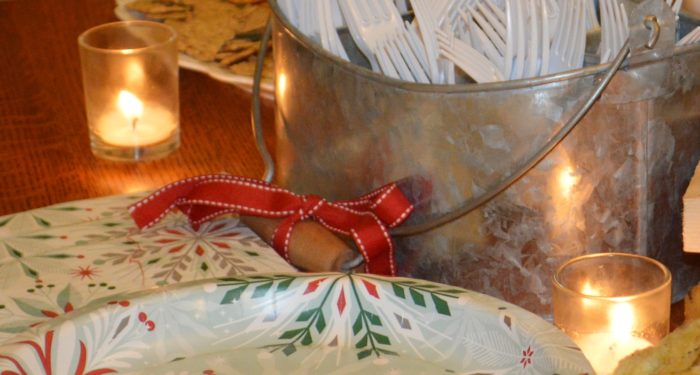 The presentation is a big part of the fun!
A bruschetta bar usually has a rustic look to it. Pull out your wooden cutting boards for this. I only had 2 wooden cutting boards so we used the leftover scraps of wood we had around here and covered a few with foil so they would be food safe.
Labels are necessary so everyone knows the various types of cheeses being offered.
Use boxes for stacking. Make your food presentation different levels. It gives much interest and a sophisticated touch. We had a bunch of Amazon boxes we used and if you look closely you will be able to catch part of the markings on the box. Optimally, you would want these to be hidden but to be honest I never even noticed until after the party when I was looking at pictures.
And that's how our Bruschetta Bar was put together. It really was a lot of fun and a big hit with the family.

And just like on Christmas Eve, snow is supposed to be coming our way once again the next few days. Lots of it! We'll see if the weatherman is right.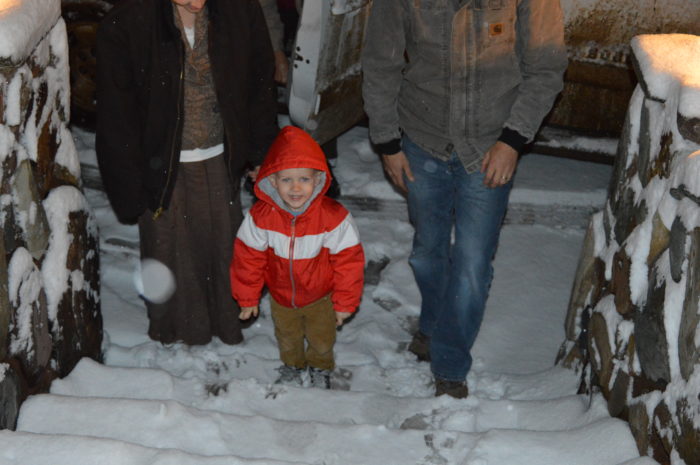 Save
Save
Filed under: Entertaining • Food/Recipes • Holidays
Like this post? Subscribe to my RSS feed and get loads more!