Recently I wrote a post about the pressure many of us feel to start our child's formal education when they reach 5-6 years of age. I asked the question of why, at this point, do we feel we need to get formal with their education.
Many times, especially if they're boys, they are just not ready to sit at a desk for extended periods of time. But most mom's do it anyways because of many possible reasons. Before I rewrite that post once again, why don't you just go ahead and read it? 🙂
So today I want to give you a incomplete list of things your child can learn that won't require workbooks or long periods of time sitting. I'm not advocating that your child does nothing. I'm just suggesting a more natural way of learning when they are young. No long hours of sitting at their desk trying to finish their schoolwork because when a child doesn't want to be there real learning and delight in the learning process is pretty much halted.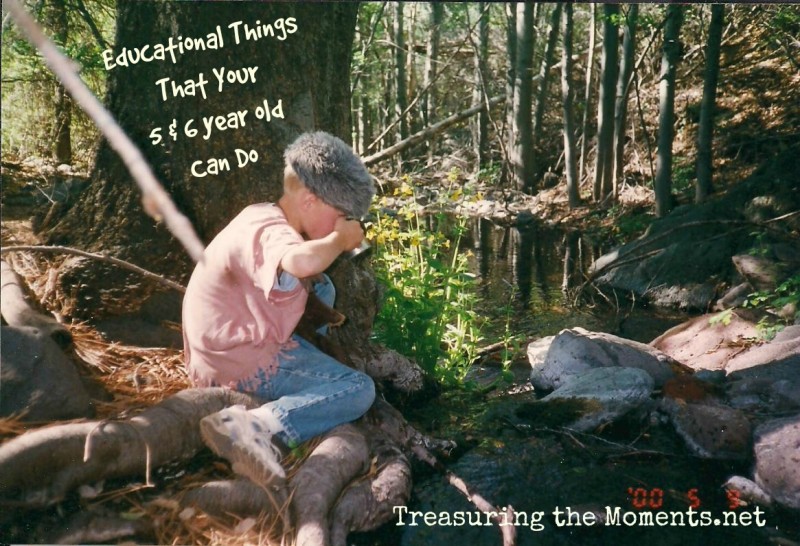 The first thing on my list is not something that can be done in one setting but requires diligence on your part so that it becomes a part of the child.
Obedience – without obedience you will probably want to put them in school a week after you start your homeschooling journey! 🙂
In the Home
Tidiness – help them learn to pick up after themselves. Work with them, showing them how to do it. Maybe make a game out of it.
Make bed
Set table
Sort laundry – why do you wash reds and whites separate?
Bible & Character
Bible stories – read these to him or use dramatized audio tapes
Stories that build character (ex. Uncle Arthur's bedtime stories)
Memory Work
Bible verses
Poetry
Nursery Rhymes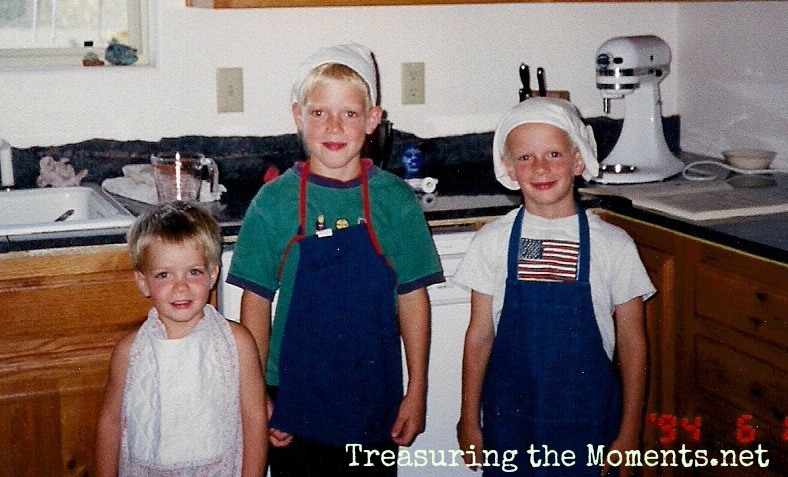 In the Kitchen
Bake w/ mom & learn measurements along with basic addition
Put eggs away & learn what a dozen means
When they cut items, they can learn what quarters and halves mean. (And yes, they can be taught to use a sharp knife but if you don't feel comfortable with that, use a boiled egg and butter knife) J
Talk about nutrition as you cook
Talk about how food builds our bones, teeth, muscles and blood
Show him what happens to food when it is left out on the counter for a few days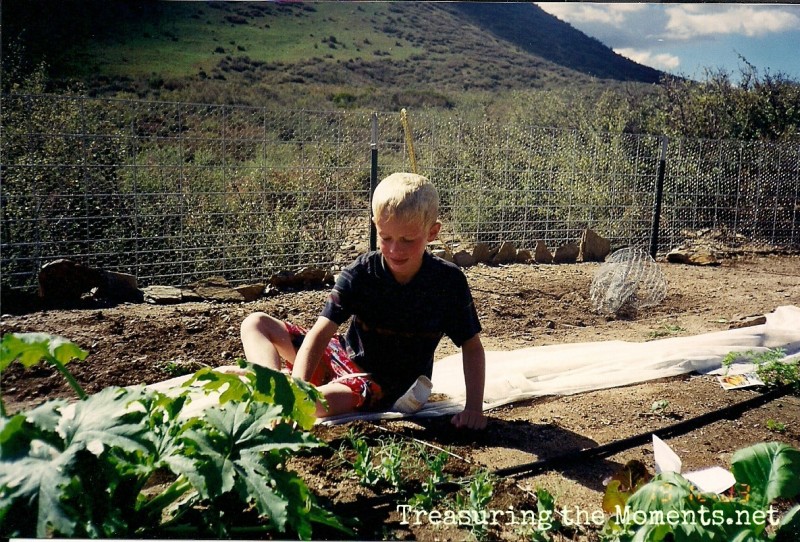 Gardening
Grow something from seed or plant carrot or radish tops or green onion roots and watch them grow
Collect different seeds and observe the differences in them
Math & Thinking Skills
Counting – use beads, buttons or other objects (this doesn't have to stop at addition, learn to skip count by 2's, 5's and 10's, maybe do some subtraction)
Coins & their names, simple basics of buying, maybe set up a little store where things have price tags
Sorting beads by color or number
At 6 you could purchase a beginning math book
Reading Readiness
Sounds of letters
Read to your child a lot! This is SO important.
At 6, I would start them on a phonics program. My favorite is Sing, Spell, Read & Write. Highly Recommended!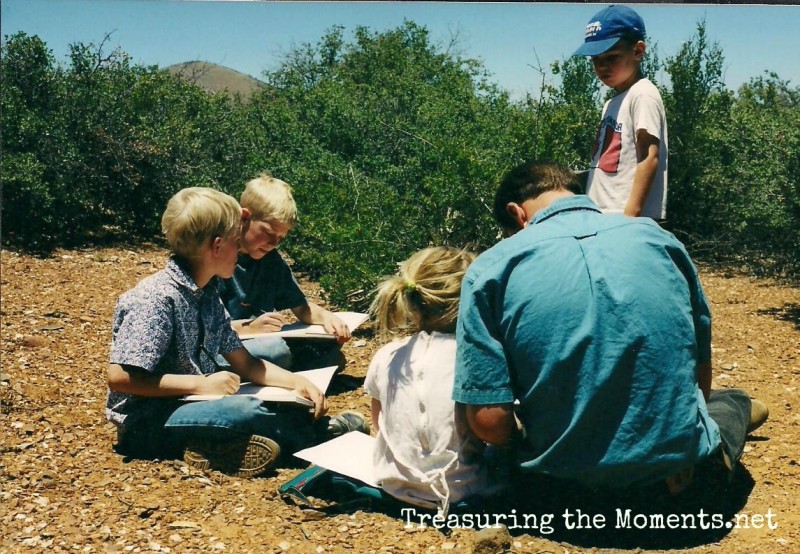 Nature Study
Trees, leaf collection, leaf rubbings – learn and identify the trees in your area
Observe & learn about insects, birds, mammals, reptiles, flowers
Press flowers
Learn about waterways by making dams, ponds, rivers on a small scale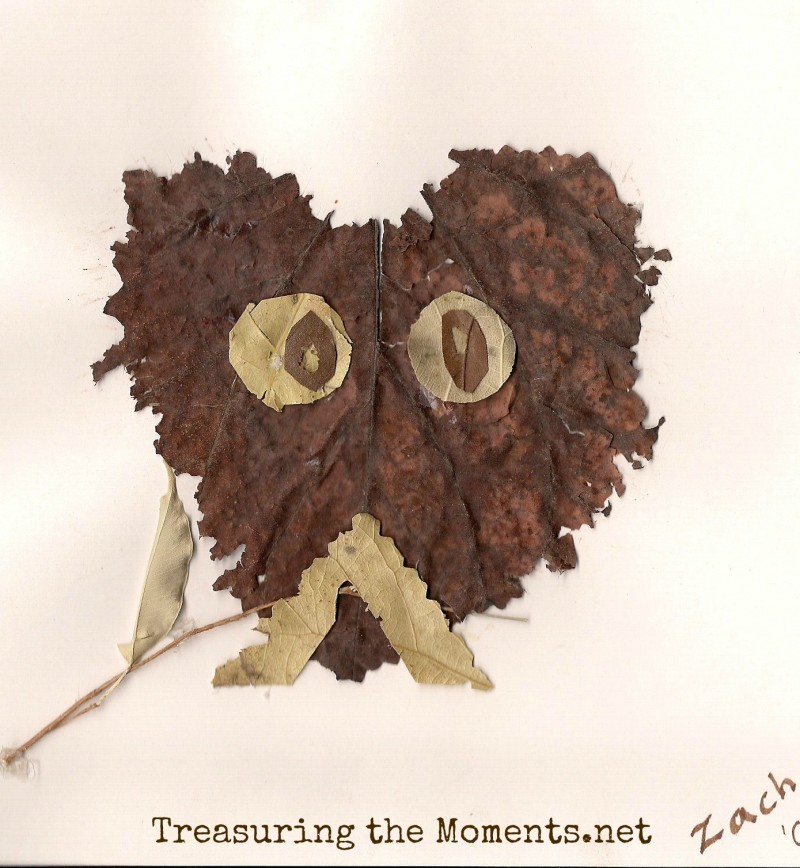 Art
Art using different means – leaf art, collage, mosaic, paint, play dough or Fimo Clay that you bake in the oven
Name Colors
Mixing Colors – teach them the different colors they can get when mixing 2 colors, how to get lighter or darker colors
Music
Sing Bible and patriotic songs as well as hymns
And if you have instruments around the house, so much the better… if not you can purchase a child's harmonica or recorder quite inexpensively.
Physical Education
Hopping
Skipping
Throwing and catching a ball
Jump Rope
and the list goes on… This is an easy one, right? 🙂
This is such an incomplete list of ideas but I hope it gives you a jumping off point for your own ideas. Do you have any that I could add?
Filed under: Uncategorized
Like this post? Subscribe to my RSS feed and get loads more!