My favorite tool for keeping track of what's happening in our family has to be our Year At-A-Glance calendar.  My mom keeps me supplied in calendars every year (they get a lot of freebies) but last year dad sent me two.  Then we received a free year at a glance calendar in the mail.  So I had the questionably brilliant idea of using all 3 so I could see which one I preferred.
So I did. And hands down, it was the year at a glance calendar.  It's a big calendar, measuring 24″x36″ but it displays all 12 months on the one page and each day has plenty of room to write on.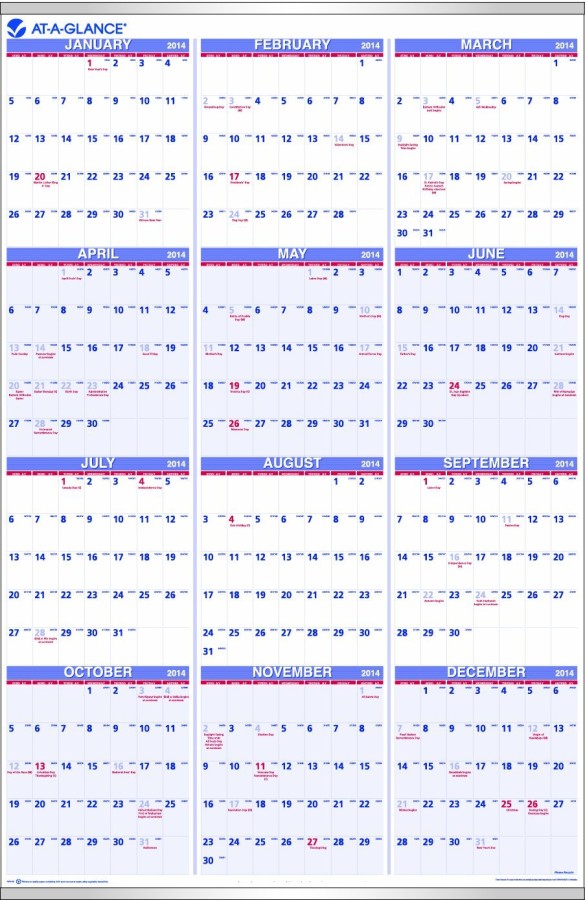 Why do I like it so much?
1. I can see all the months at one time.  No more flipping the calendar trying to find "July" or any other month.
2. Because I can see all the months at one time, I can quickly block off dates that are spoken for.
3. Since the calendar is easily accessible even my husband refers to it and it helps his planning of family activities.
4. Everything goes on the calendar: appointments, activities, family vacations, etc. Everything.
Last year I had a freebie year at a glance calendar but this year one didn't arrive in the mail, so we purchased one (that's how much I love it. haha) through Amazon.
I never would have thought it would be such a useful tool until we tried it.
What do you use? Do you think something like this would be helpful?
Filed under: Organization
Like this post? Subscribe to my RSS feed and get loads more!