4-H EXPO has officially begun as of today and will end on Saturday after the auction where the kids sell their animals or in Serenity's case, an item she has sewn.  She was raising a lamb if you remember, but sadly that ended abruptly.
Wesley spent some time grooming his prize pig.  This prize pig is not called Wilbur because it's a girl.  Her name is Butterfly. Awww…
That's exactly what comes to my mind when I look at her – a butterfly.  Can't you see the resemblance?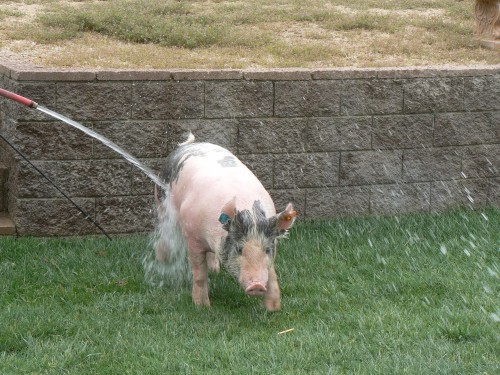 He's been brushing her the last few days with a brush because they get this scaly dandruff stuff that doesna look so good in the show ring.  Judges don't like to see it.  You don't want to try to brush it all off in one day because the pigs skin will get irritated and will turn red and sometimes even bleed if you're too aggressive.  So, it's good to start several weeks prior to the show.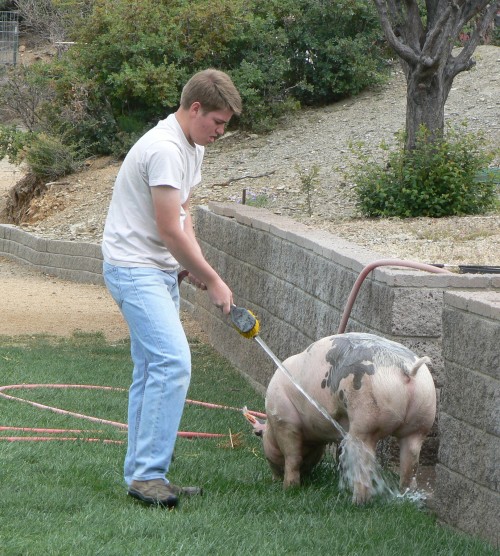 See all that hair on Butterfly's face and body?
That all had to be clipped. You have to have clippers with a guard because you want to leave a very fine layer of hair.
It really spruces the little porkers up.  It's not a requirement but just another way to make your pig look good.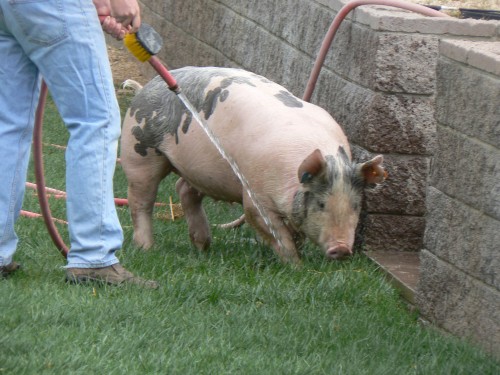 Serenity has been feverishly working on her sewing project which was an apron for a man and one for a lady with matching potholders.
She finally finished with her last potholder about 20 minutes before they left for EXPO to check in Wesley's pig and her sewing project.  Whew!
She did a fantastic job and I loved how her aprons and potholders turned out.
She found a tutorial online and cut out her own pattern for the apron.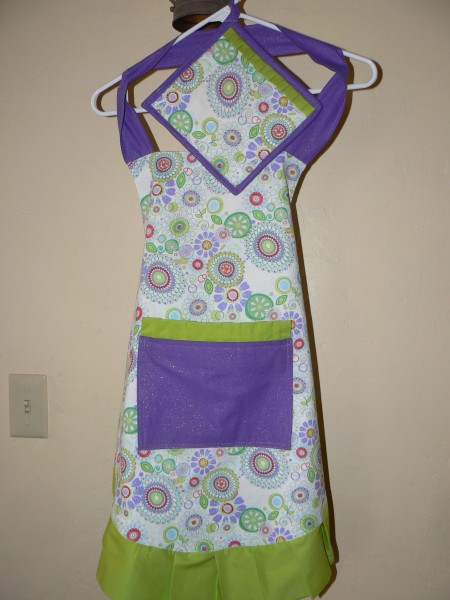 With the potholder, she created her own unique design by adding pleats at the top.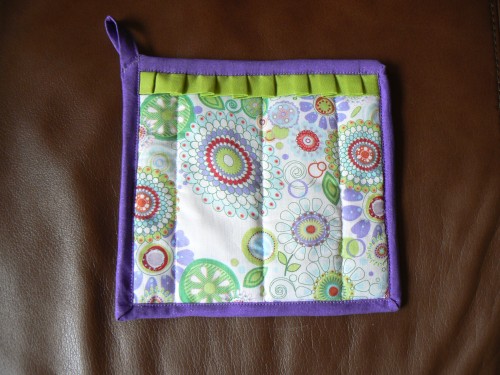 The apron is completely lined on the flip side, showing no seams.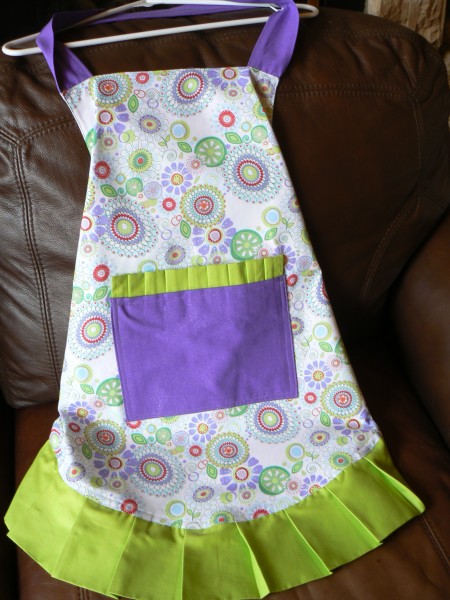 Here is the man's apron.  Instead of doing a double row of top-stitching like she did on the ladies apron, she did a zig-zag stitch all around the edges in a golden brown for contrast.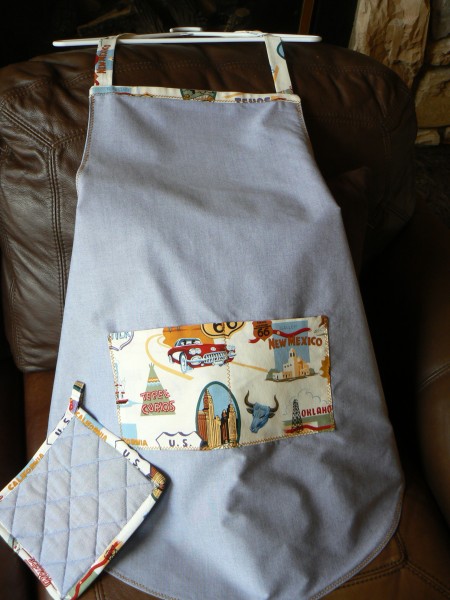 After the apron was put together (the back lining attached) and it was too late, we thought it would have been neat to do some embroidery on the front.  Something like 'Grill Master' or 'BBQ King'.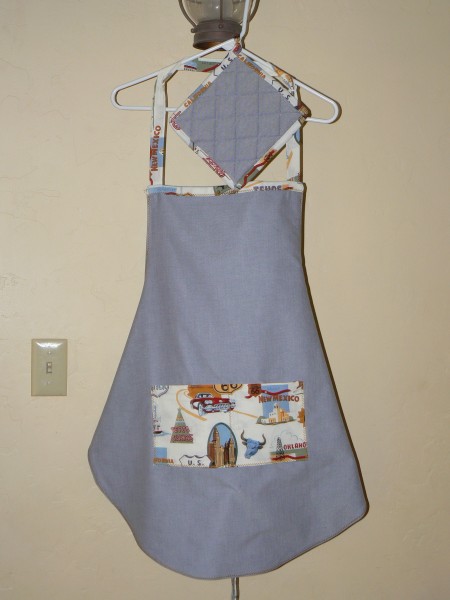 I really like the diamond pattern she put on this potholder.  It gives it more interest.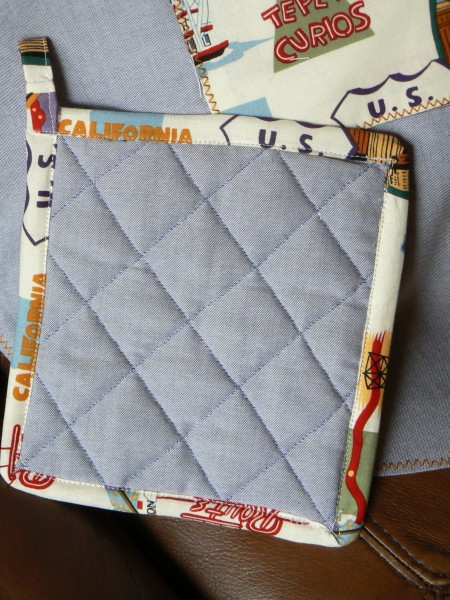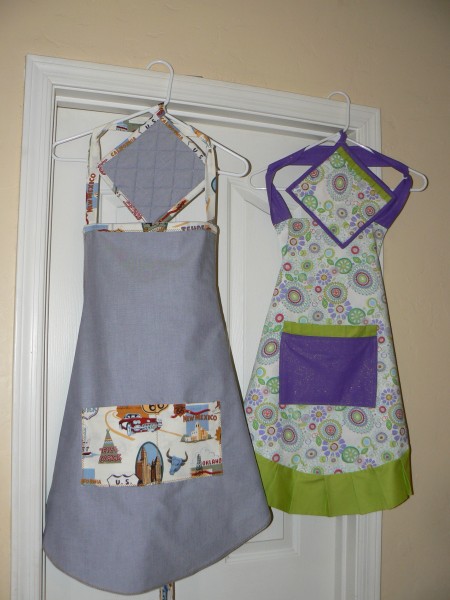 Tomorrow (Thursday) Wesley will be showing his pig.  I'll try to let you know how it all goes.  Serenity's sewing project will be judged by tomorrow, too, I think.
Filed under: Family Life Updates • Happenin's on the Farm
Like this post? Subscribe to my RSS feed and get loads more!