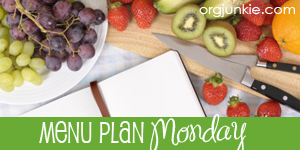 I'm joining up with I'm an Organizing Junkie with this monthly menu.
I'm a little under the weather as I type this – also had my parents here this weekend so I'm running behind on getting my May menu up.
April was the first time I tried writing up a menu for the whole month.  Previously, I just wasn't interested.  Well that mindset has completely changed.  I'm LOVING it.  Having an assigned day for certain types of foods simplifies the choosing of recipes.  Elk on Monday, Italian on Tuesday, Hamburger meat on Wednesday and so on.  You can read about it here in my post called Monthly Menu Plan for April where I explain the whole process of how I make my monthly menu plans.
From last month's menu there were 4 new recipes that were keepers.
Italian Sausage Soup w/ Tortellini (this was the top favorite)
Time for another month of meals .
Click this link to print off  the monthly menu for May.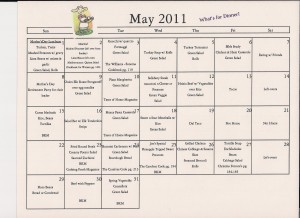 Week 1
Mother's Day Luncheon
(made a special meal for my mom who wasn't going to be here for Mother's Day)
1.  Turkey, Mashed Potatoes w/ gravy, Yams, Lima Beans w/ onions & garlic, Green Salad, Rolls
Dessert:  chocolate covered strawberries, cheesecake with Blueberry fruit topping, apple pie w/ vanilla ice cream
2.  Meatloaf, Mashed Potatoes (left over from Sunday), Lima Beans (left over), Mediterranean Quinoa Salad
3.  Gnocchi w/ Quattro Formaggi, Green Salad
4.  Turkey Soup w/ Rolls, Green Salad
5.  Turkey Tettrazini, Green Salad, Rolls
6.  Chicken & Ham Casserole, Green Salad
7.  Graduation dinner w/ friends
Week 2
1.  Onion Elk Roast Stroganoff w/Egg Noodles, Green Salad
2. Pizza Margherita, Green Salad
3.  Salisbury Steak, Macaroni n Cheese, or Potatoes, Veggie, Green Salad
4.  Hoisin Beef w/ Vegetables over Rice, Green Salad
5.  Tacos
6.  Left-overs
Week 3
1.  Carne Mechada, Rice, Beans, Tortillas
2.  Salad Bar w/ Elk Tenderloin Strips
3.  Meaty Pasta Casserole, Green Salad
4.  Sweet n Sour Meatballs w/ Rice, Green Salad
Short week – graduation party out of town
Week 4
1.
Fried Round Steak, Cramy Potato Salad, Sauteed Zuchinni,
2.  Bucatini Carbonara w/ Peas, Green Salad, Sourdough Bread
3.  Joe's Special, Pineapple Topped Sweet Potatoes
4.  Grilled Chicken, Chinese Cabbage & Sesame Slaw, Steamed Broccoli, Rolls
5.  Tortilla Soup?, Enchiladas, Beans, Cabbage Salad
Week 5
1.  Pinto Beans, Bread or Cornbread
3.  Spring Vegetable Cannelloni, Green Salad
If there's a specific recipe you would like for any of the above mentioned dishes, just leave a comment.  Let me know if you try any of the recipes.
If you have a monthly menu or even just 2 weeks of menus, sign up below.
Filed under: Menu Plans
Like this post? Subscribe to my RSS feed and get loads more!