I'll be cooking away the next few days since the hubby and boys will be going on their last hunt of the year.  I think we'll be well stocked for the coming year.  We already have 2 elk that's ready to be picked up at the butcher and now we may have another one?  This hunt is going to be all about horns so they will spending long days in the woods looking for that monster bull.  I have to come up with 7 suppers that are easy for them to put together heat up.  Lucky for them they will have my middle son, Zachary along to be camp chef.  The rest of them are a bit challenged in the kitchen.
Anyways, since you heard the update about my dear dad and what I was up to last week from my post here,I thought I would instead share some tablescapes for my favorite holiday of the year – Thanksgiving.
These napkin rings are simple but cute.
and another tablescape by Sweet Something Designs using the same dishes…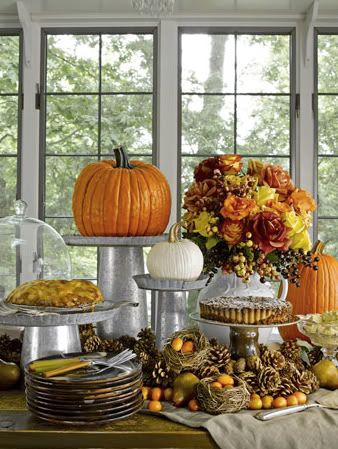 Look at these leaf plates Starshine Chic uses for salad.  Cute idea.
Isn't this a beautiful but fairly simple tablescape?  I love it.

Maybe you won't be having Thanksgiving at your place this year but how about bringing out a Fall theme to all your evening meals, maybe a little centerpiece or table runner.  Your backyard might even provide you with some inspiration.  Last year our family made a thanksgiving tree and used it for our centerpiece.
BHG has one to share.
If you have a fall decorating idea, leave a comment with a link to your blog.
Tagged with: Thanksgiving
Filed under: Tablescaping
Like this post? Subscribe to my RSS feed and get loads more!