EDITED: Be sure to see what I changed at the bottom of this post.
Well I am so excited to share with you this project.  I just love how it turned out!
Remember this project where I painted sheet metal with chalkboard paint?  I'm still loving it.
I got the idea to do the same thing on the inside of one of my kitchen cupboards.

In the past I have taped recipes that I use frequently on the left hand cupboard and that has been something I've really liked. These are recipes that I use over and over and having them taped on the inside of the cupboard has just been so handy.

Do you do this, too?
My husband was needing some sheet metal work done and so while he was at it, he had the man cut these pieces for my cupboard.  The man did a wonderful job – folding over the edges so that there were no sharp corners or sides.

I sprayed them with Chalk Paint 3 times and I'm not going to show you the little bit of over spray I got on the weathered porch. 😛  Let's just say it was nowhere near the amount I got on the score board. No one will notice the over spray… well no one except for one of my sons who noticed it immediately. Oh dear, I really do need to be more careful.

My dear husband willingly took the time to mount my chalkboards.  He's so good about things like that!

I got my chalkboard ink markers out and that's when the real fun began!
I knew I wanted one of them to be for menu planning.
I thought if I had posted it where it was easily accessible and attractive, I would no longer have to be bothered pulling out my menu planner each day.
  My meal planning has went by the wayside now for several months but it does make my days so much easier when I do have things planned ahead.  So I really want to get back on track with that.

How's your menu planning going?
The other chalkboard I don't have big plans for presently.  It's magnetic so I'm thinking when I do print off a recipe from the internet, I can always place it there. We'll see what happens. Grocery lists are not what I have in mind for it but I just wrote on it to show you how it would look.  An empty chalkboard is just not as cute. 🙂

And there you have it!
Fun, yes?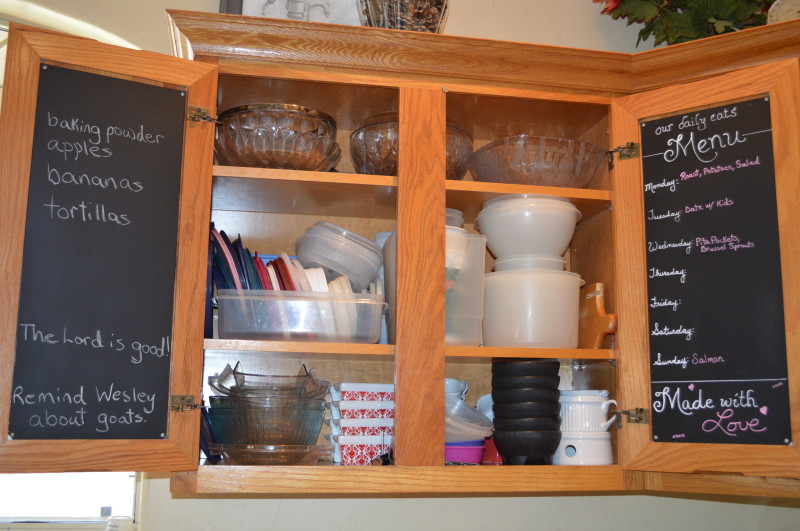 What chalkboard projects have you completed?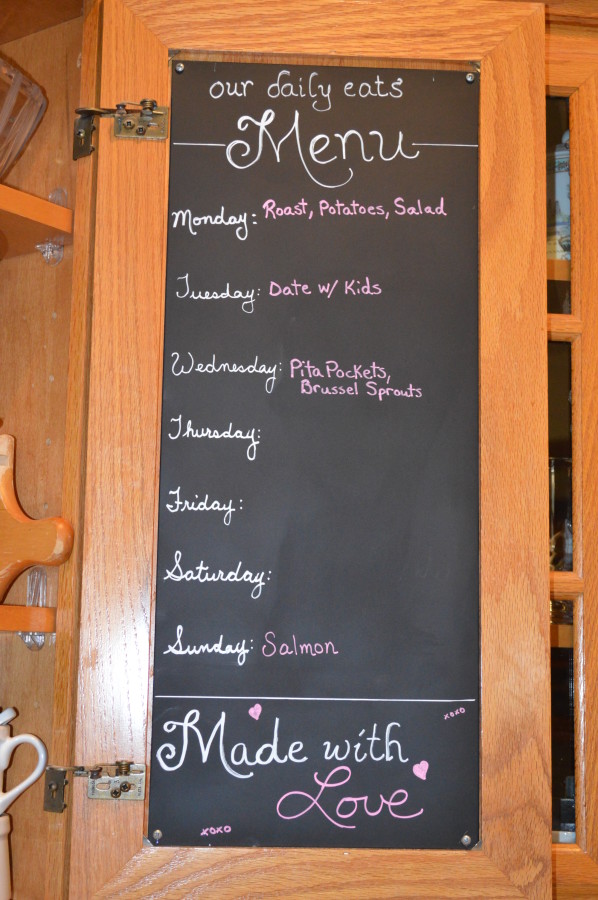 Edited to Add "The Latest Idea"
I got a brainstorm for what I wanted to do with the left hand cupboard.  This one that I showed earlier in the post…

Audrey suggested I use it for a breakfast menu (great idea, I thought) and this is what I came up with.  For those who like to be spontaneous, this will seem like overkill I'm sure but for detail oriented individuals like myself, we get excited about things like this.  Hey, it's how we tick.  What can I say? 🙂
It really isn't that complicated that it needs a list of directions but it kind of looks like it could be, doesn't it? haha
Here is how it works.  Everything is written using Chalkboard markers so it will stay on there until I get it wet.
I listed all the breakfast choices and at the beginning of the week I choose what the plan is for breakfast and write the number under that day of the week using regular chalk that can just be wiped away while all that's written with chalkboard marker stays in place.
And then I have a little area for quotes, Scripture verses, etc.
Yeah, I know.  It looks like I've gone a little crazy with the idea but I'm interested to see how it works for me.  If I find it's not helpful, no loss.  I'll just wipe it all away with a damp paper towel.
Does one of your ideas ever cause you to go overboard?
Please let me know I'm not alone. 🙂
Linking up to:
Filed under: Craft Corner
Like this post? Subscribe to my RSS feed and get loads more!