We focus so much on Reading, Writing & Arithmetic when a child has the desire to learn even more.
Most of us remember a time when we wanted to be making something with our hands. – Mrs. Steinthall, "The Value of Art Training and Manual Work" (Condensed Report.) 1897
Charlotte Mason felt strongly about children learning useful handicrafts.
The points to be borne in mind in children's handicrafts are:

(a) that they should not be employed in making futilities such as pea and stick work, paper mats, and the like;

(b) that they should be taught slowly and carefully what they are to do;

(c) that slipshod work should not be allowed;

(d) and that, therefore, the children's work should be kept well within their compass. -Charlotte Mason vol 1 pg 316
Thinking of handicrafts that will be useful, easy and fun is a quest of mine right now. Currently I've started two boards on Pinterest.
This one is for girls and boys (there is more girl ideas than boys). http://pinterest.com/timbuck2mom/handicrafts-for-kids/
And this one is for boys around age 10 and up. http://pinterest.com/timbuck2mom/skills-handicrafts-for-boys/
Recently, Audrey took a vinegar jar I had saved and wrapped it with hemp twine during our handicraft time. It's actually something I've wanted to make myself but never got to it. 😛
Suggestion:  If you decide to use this idea with your own child, I would recommend using a bottle that has straight sides and not so rounded. It just makes it more difficult to keep the jute from sliding around.  I also helped with the hot glue.
Justus, on the other hand, worked on a life skill. Under my husband's instruction, he took apart the vacuum and helped replace the belt.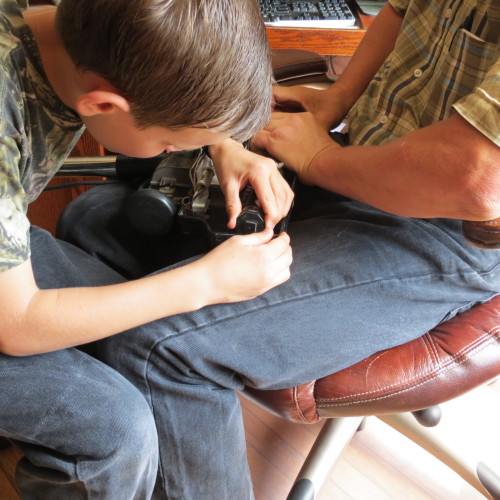 I am seriously looking for ideas for boys and girls. I'd love to hear any suggestions you might have.
Filed under: Handicrafts • Homeschooling
Like this post? Subscribe to my RSS feed and get loads more!