I thought it was about time for an update on the farm.
My gorgeous and fruitful garden that I planted May 25 has been producing for a short while. I don't feel that it has produced as much as it should have but my kids think I ought to be pleased. My Mormon neighbor (aren't they supposed to be good gardeners?) told me all her tomatoes died this year because of the heat. Mine are all living, so I guess I should be quite grateful and thankful!
It is so pleasing to walk out to the garden with my little basket and gather bunches of mint for tea or to gather tomatoes as they ripen from day to day, or to pick green beans for supper (I'm not telling you how many I get.  You'd laugh.  Don't tell me you wouldn't. But hey, this is A-r-i-z-o-n-a and if I can collect 15 every other day… oops… did I actually just tell you how many I'm picking??  Argh!)
Living in Arizona is my favorite excuse for why my garden has it so rough.

Okay, so now that you have full disclosure on my little gorgeous and fruitful garden, here are the pictures.
Here's a partial view of the garden when I started (I had a few tomato transplants that I purchased and my mint patch, which is cut out of the picture, is not shown.). The picture on the right is a full view of my garden beds and how it looks now.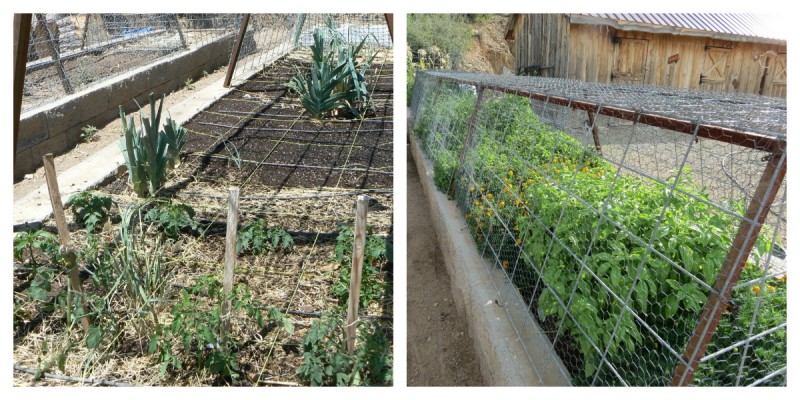 No more corn for me next year. I must have picked the corn way too late because they were dead tasting and the real clincher for me is they had worms in them. I'd rather stick with the vegetables that don't get those kinds of things.
I planted about 10 okra transplants and I think about 4 are producing.  A few of the others were swallowed up by some potato plants that started growing.  Zachary must have planted them a year or more ago. Anyone want a 1-2 year old potato? I have no idea what to do with the potato plants.  Do I leave them growing? Can I cut them down to the ground, so they don't take up as much room?  Do tell.
Next year, more okra plants.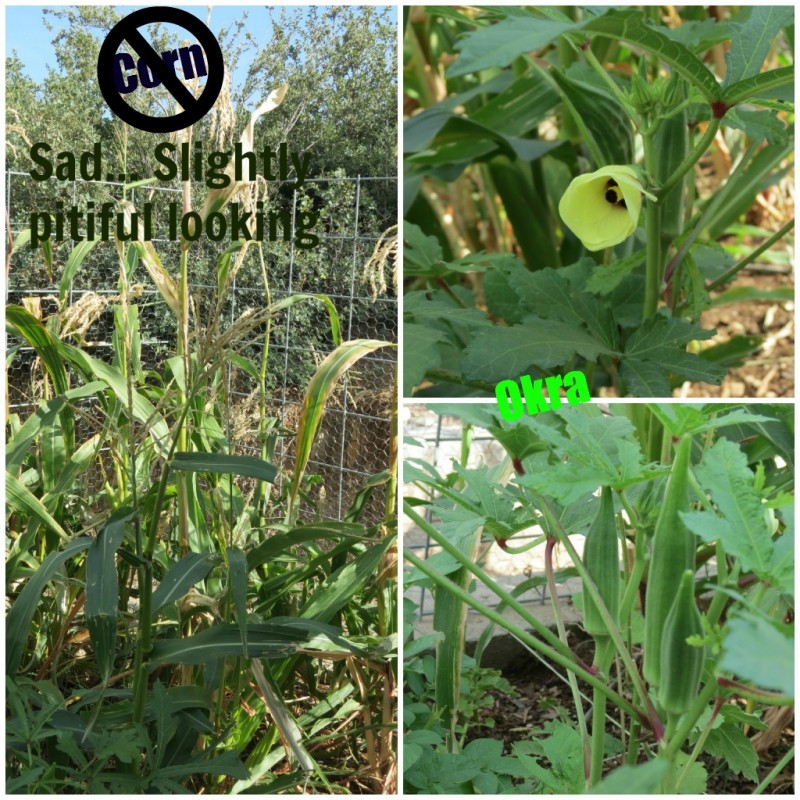 I learned that sugar snap peas cannot survive 2 little eager children's grabbing hands. They were standing nice and tall, their little tendrils wrapped around each other but they've all just kind of collapsed on each other in one big heap.
Lesson learned – have better support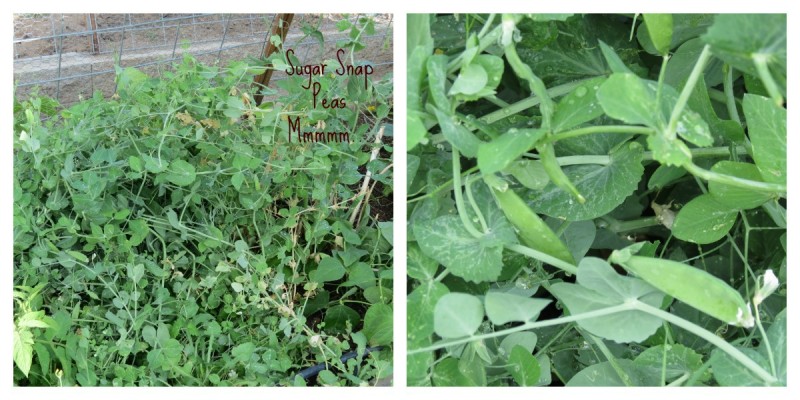 My mint patch does wonderfully. Zachary planted it, and it's been there for about 2-3 years. I used it for Heather's wedding reception last year.  The cucumbers are for canning bread and butter pickles in the event I have enough.
Do you see that potato plant right behind the cucumbers? Should I just dig up the potatoes and get rid of everything?  Help!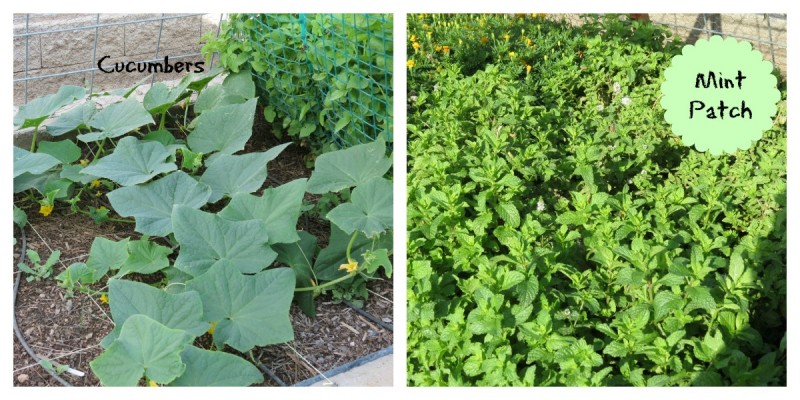 My marigold's came up on their own. Love that!  I purchased 3 basil plants from Trader Joe's and they have done really well.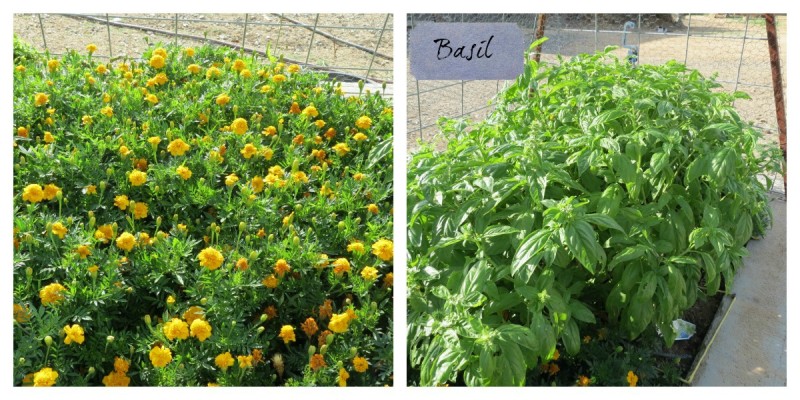 I planted green bean bushes instead of the pole variety.
Next year I want to try the pole variety and plant lots more so that I can preserve some for wintertime.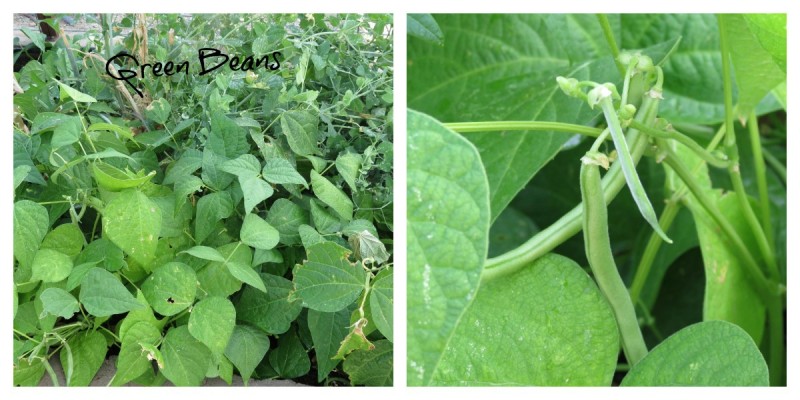 And then there are my tomatoes which are quite trouble-free except for the fact that they need support.  They are sprawling all over!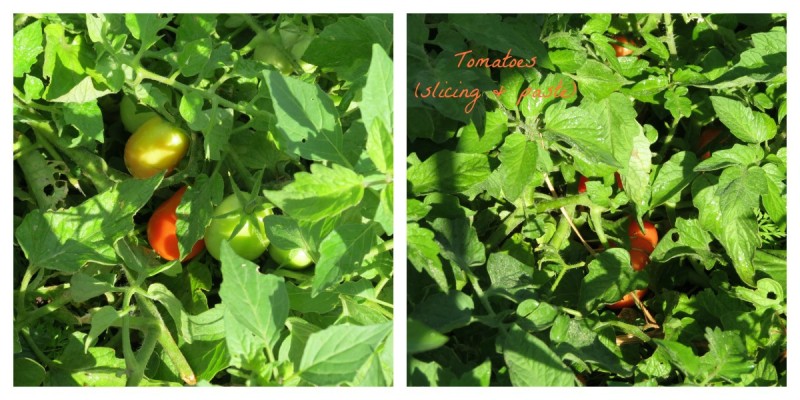 And last of all, we have hatched 7 more chicks. (8 chicks but one died)  They are just too cute!

Have a great day!
Joining up with Homestead Revival.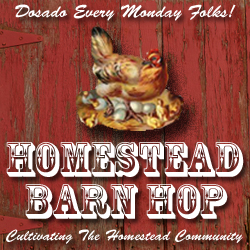 Filed under: Farm & Garden
Like this post? Subscribe to my RSS feed and get loads more!