A few weeks ago I purchased some bird seed for song birds at Sam's.  I filled up my birdfeeder that had not been used in years and it has been so exciting to watch the many different birds come in to it.
"We are all meant to be naturalists, each in his own degree, and it is inexcusable to live in a world so full of the marvels of plant and animal life and to care for none of these things."  Charlotte Mason
I have never purchased birdseed for songbirds before because I thought we didn't really have those birds around.  I knew we had blue jays but not much else…. or so I thought.
House Finch (Carpodacus mexicanus)
These come in small flocks to our feeder.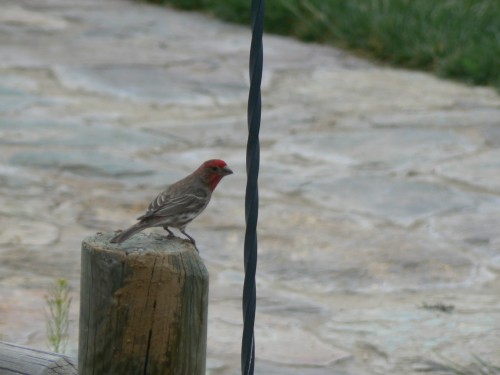 "Let them once get in touch with nature and a habit is formed which will be a source of delight and habit through life."  Charlotte Mason
Can anyone identify the yellow and black bird on the left?  We thought it was an Oriole but it's beak doesn't seem like the right one for that bird.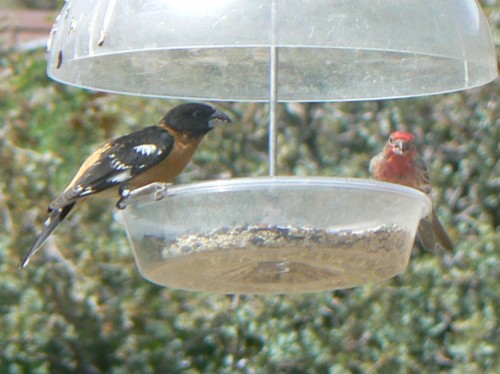 "All the time he is storing up associations of delight which will come back for his refreshment when he is an old man." Charlotte Mason
A cardinal that I had no idea was even around.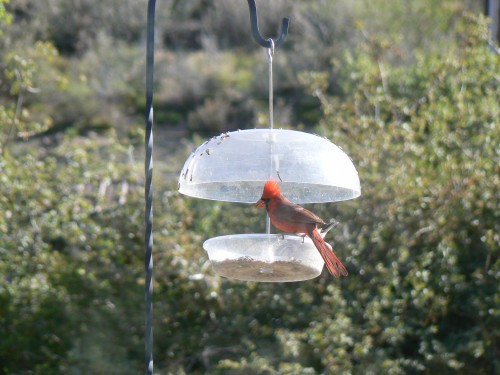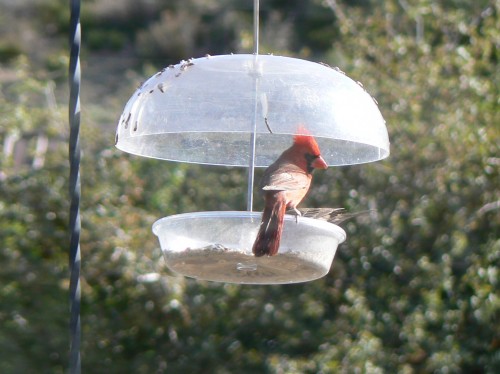 I wasn't able to get a picture but I even had a Western Blue Bird come in.  So very pretty.
(Source: Wikipedia)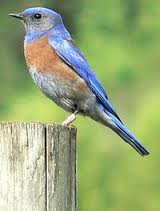 "[A child] should know by name, and where and how they live at any rate, the things of the earth about him, its birds and beasts and creeping things, its herbs and trees…" Charlotte Mason
Did you know that bird watching, amongst the British, is known as twitching?  It's also becoming a popular term amongst American bird watchers but instead of just referring to bird watching, we refer to it to mean, finding and marking the birds you find off in your journal checklist.
So how about you; have you been twitching lately?
Do you like the activity of bird watching?
Do you keep a Nature Journal?
"Children are born naturalists, with a bent inherited, perhaps, from an unknown ancestor; but every child has a natural interest in the living things about him which it is the business of his parents to encourage; for, but few children are equal to holding their own in the face of public opinion; and if they see that the things which interest them are indifferent or disgusting to you, their pleasure in them vanishes, and that chapter in the book of Nature is closed to them." Charlotte Mason
Don't you find what Miss Mason said to be true?  If we as parents express an interest in something and show delight in it, our children will also find joy in them.
I have good intentions many times about getting out into nature and letting the kids observe, but then when things get too hectic and the busyness of life is around me, that is one of the first things to go.
"Let me repeat, that I venture to suggest, not what is practicable in any household, but what seems to me absolutely best for the children; and that, in the faith that mothers work wonders once they are convinced that wonders are demanded of them."  Charlotte Mason
Ouch, Miss Mason.  You mean I really don't have an excuse?
Filed under: Nature Study
Like this post? Subscribe to my RSS feed and get loads more!