I am really excited to tell you about a home project that we (ahem) my dad finished for us when both mom and dad were here around Christmas time.  A few years ago we made a bedroom for our boys in the attic. (I've never posted pictures of it because I was trying to… I was really wanting to…  I planned to show it after I had finished decorating it.
No, it's still not done.  It's been 2 years and I've done virtually nothing.  Zilch. Nada
But I've got plans people.  Plans to finally at least start on it.
Nevertheless, I'm in the laundry room right now.  So let's get back to that, shall we?  When we added stairs in the boys' room to the attic, I ended up with a cubbyhole in my laundry room.  I thought about what I wanted to do with the space for a long time.  Two years to be exact but who's counting?
Here's the before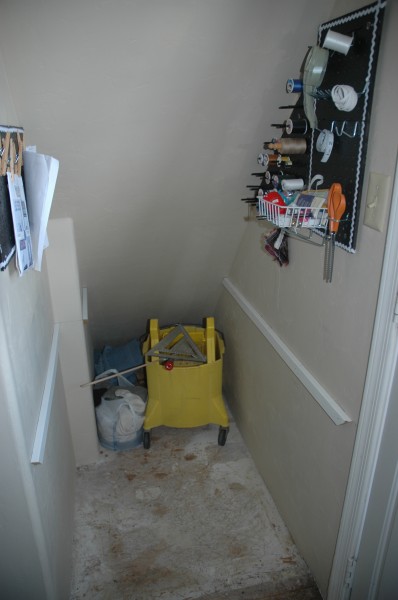 Some ideas I had for this space were:
Putting in shelves and hanging a curtain/material over the opening

Making it my sewing area

a many other ideas that really weren't feasible!
I finally decided on making it my sewing area.  I'm not a big time sewer but I like the idea of having my sewing machine out all the time for any mending that may need done and plus, I also like to quilt.  Since I never have large chunks of time to devote to quilting, I find that I don't get my machine and supplies out because I know that I'll have to clean everything up in a few hours when its mealtime.
So even though this space was small, I decided it would suit my purposes.
Well, this Christmas when my hubby asked what I wanted I begged, pleaded, graciously asked for my little cubbyhole to be tiled.
Then dad came to visit and he also asked me what I wanted for Christmas.  Well, since he's a carpenter by trade I knew that he could make my counter top.  Yes!
Thank you, dad.  You're THE best!
He got to work right away.
Here's another picture showing this spot in my laundry room.  My laundry room is narrow.
The door leads outside.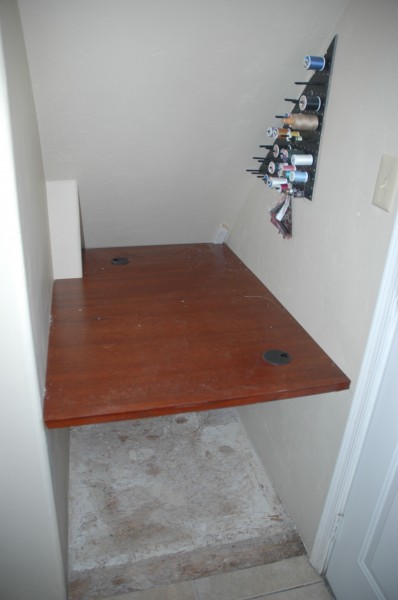 I have to tell you I'm loving this space!  There's still some things I want to do here but… I'm not sure what they are yet.

   It takes me awhile to decide.  When I finally figure it out, you'll be the first to know… well, maybe the second or third.
Here's what it looks like now.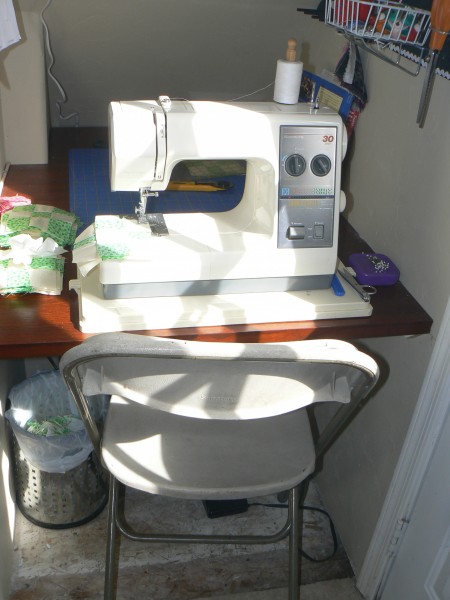 The tile still needs to be layed and hopefully will be done this week.  Russell did some mechanical work for a tile setter friend and in exchange our friend is going to lay my tile.  I'm really excited to get this completed.
Russell put in a light for me since this can be a darker corner.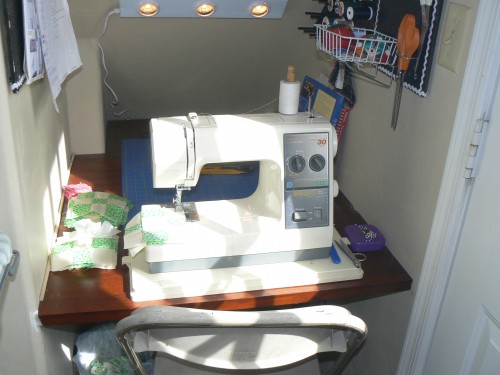 My sister is making me a curtain for my window.  At least I think she still is.  How's it going, sis?

This is the fabric I chose for the window covering.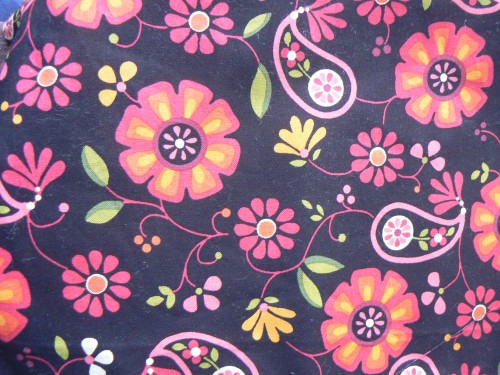 I'll be looking for a different chair and although I don't know much about refinishing furniture I thought it might be fun to paint the chair I eventually get.  Paint it a color that's in my curtain.  Just to give the room a pop of color.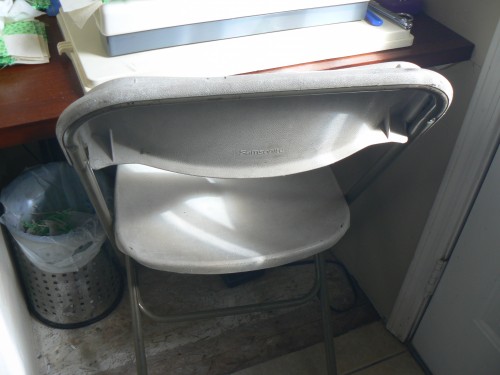 .
And here is the before and after once again.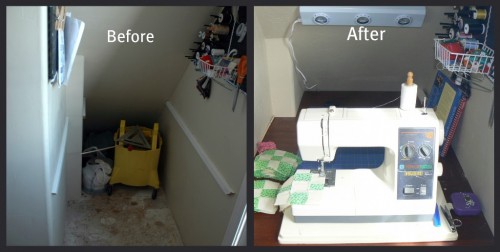 And yes, I've been sewing !
Linking up with:
Tagged with: Laundry Room • Sewing Corner
Filed under: Craft Corner • Decorating
Like this post? Subscribe to my RSS feed and get loads more!