We had Christmas with mom and dad here at my house. Ten of us.  Pretty small since we normally have my sisters and their families but things just happened to work out that way this year.
Since I didn't have any Christmassy dishes, I decided to go with a tablescape that had more of a nature look.
I decided to use a toolbox my boys had made when they were little as my centerpiece.  I filled the toolbox with some juniper branches, poked some red material around the base of the branches, added a poinsettia and a bit of cranberry garland.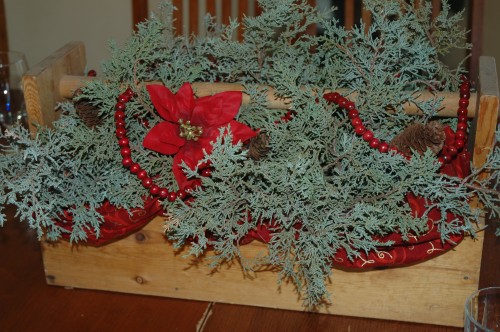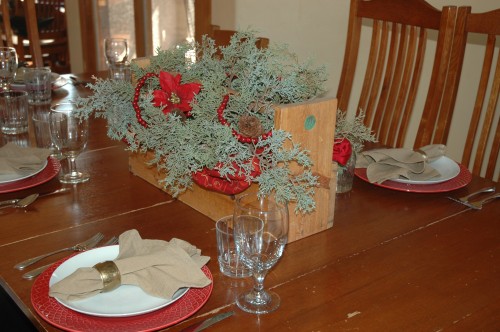 I loved how it turned out.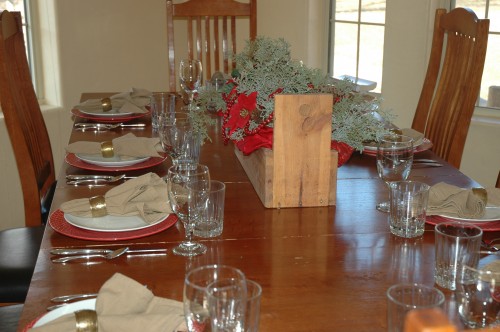 For our Christmas Dinner we had:
Grilled Leg of Lamb with Garlic and Rosemary – Delicious!
Spinach Salad w/ Bleu Cheese, Oranges & Nuts – (Nourishing Traditions) This was the same salad we had at Thanksgiving.  I liked it so much that I decided to have it for Christmas, too.
Garlicky Mashed Potato Cakes
Roasted Asparagus
Whole Wheat Rolls
For Dessert:
Pear Cranberry Crumble
Vanilla Ice Cream
and a couple of other pies my dad purchased
How many people were at your Christmas dinner?
Filed under: Holiday Decorating • Holidays • Menu Plans • Tablescaping
Like this post? Subscribe to my RSS feed and get loads more!