Farm Style Sinks
My sister was the first one to introduce me to the farm style sink.  She's always been interested in architecture and ideas that are unique from the mainstream.  I'm always a little slow to the game.  I have to see something a lot before I really start to notice it.
Well I have to admit, she's right.
You hear that, sister?
I do see the charm and beauty in these old-time sinks… now.

southernliving.com
These sinks sell for a pretty penny, so if you're ever out garage saling and spot one of these, you'll want to snap it up.
auctiongirlvintage.typepad.com
Remember this next picture from the other day's post on open shelving?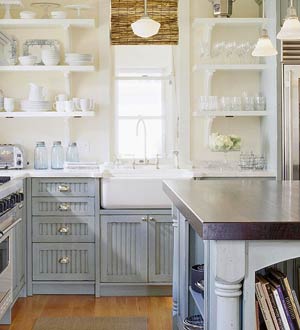 4.bp.blogspot.com
A Few Advantages of Farm Style Sinks
(Since I do not own a farm style sink, these are just points I gathered after reading different viewpoints on the web.)
Great for washing large pots and pans.  In the old days they were even used to wash small children.

When you wash dishes, you are right against the sink.  With the normal sink, there is about 3-4″ of counter space and therefore, your have to bend slightly over.  This can cause back strain.

Very durable one piece construction eliminating any leaks that could develop from cracks
New farm style sinks are also being sold.  You may see them with the title of apron sinks as well as farm style sink.
Here are some apron sinks by Kohler.  Even Amazon has farm style sinks.
houzz.com
inspirationfordecoration.blogspot.com
I called my mom while I was writing this post to see if her family had a farm style sink and if she had any fond memories of it.  I was quite shocked to learn that no, their family had not had a farmhouse-style sink in their home.  As a matter of fact they had had  no sink(!) until the year 1956.  My mother was 18 years old before their family even had indoor plumbing!
From this…
to this…

We can all count our blessings tonight for something so common to us.  A sink and an indoor faucet.
Filed under: 31 Days of Kitchen Inspiration
Like this post? Subscribe to my RSS feed and get loads more!