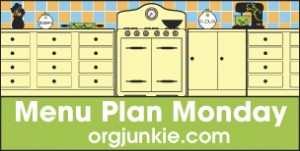 With Last week's menu plan the Drip Beef and Pasta Carbonara, both from Pioneer Woman, were well received.  I have to admit that I, myself wasn't overly impressed with the Pasta Carbonara so I'll probably look for another version of this recipe.
Because of our trip to Tucson last week, I didn't make some of the meals I had planned; so I will be using them this week.
Monday – Great Grandma's Beef Pie (THIS recipe shows up again.  I didn't get to avoid this all together.

)
Tuesday – Curried Spinach & Chickpea Soup – recipe found in the magazine Clean Eating
Wednesday – Salisbury Steak,
Thursday – Pork Souvlak, Chopped Greek Salad
Friday - Carne Mechada, Rice, Beans
Saturday – Hamburger Cook-out with our church at a little lake nearby
Sunday – Left-overs?
How is your meal planning going?  Do you like having a meal plan in place?
Have a tasty week!
Filed under: Menu Plans
Like this post? Subscribe to my RSS feed and get loads more!