Since Flylady's mission for the week is the bathroom I thought that today's organizing focus would be under the bathroom sink.
Under the bathroom sink is probably one of the easiest places to tidy and declutter.  Here are some steps to cleaning that area.
1.  Empty the cupboard out.
2.  Wipe clean with a damp rag.
3.  Gather like items with like. (for example: shampoo, toothpaste & lotions)
4.   Restock your toilet paper, hand towels and bath towels, if needed.
5.  Discard anything that is not wanted and then place the remaining items back under the sink in tidy way or use one of the following ideas to help you maximize your use of the area.
The Storage Store offers the following solutions for your hair dryer & accessories.
This one is for $13.49 and uses suction cups,
or this one for $37.49.

Stackable mesh organizer from The Container Store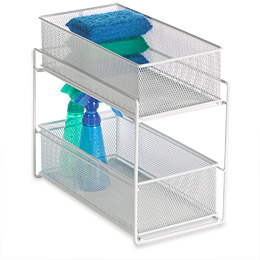 and this one.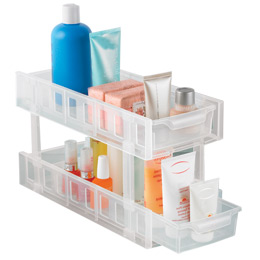 This one comes from Taylor Gifts for $29.98.  I like the height it gives for the bottom shelf.
Much of the room under the sink goes to waste because there are no shelves.  I like these added shelves.
This popular shelf can be adjusted to fit your plumbing.  It is also from Taylor Gifts for $19.98.
Okay ladies, let's get to our bathroom cupboards.  It will take you 30 minutes or even less.   How do I know?  I had to tackle mine this week.

AJK2BESAV59N
Filed under: Home Organization
Like this post? Subscribe to my RSS feed and get loads more!